Where the world gathers for
plating, anodizing, & finishing Q&As since 1989
-----
Black Tin
August 25, 2010
We are having a problem with some brass studs (base material & plating spec below) turning black somewhere between the plater & our receiving dock. During that time, the studs are inserted molded into thermoset material.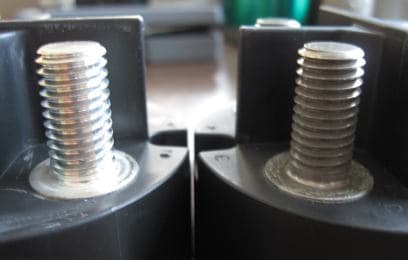 STUD MATERIAL: 360 HALF HARD BRASS

STUD PLATING: COPPER PLATE PER AMS2418 [affil. link] F (SUPERSEDES MIL-C-14550), TYPE 1, THICKNESS .0004 - .0008, TIN PLATE PER ASTM B545 [affil. link] , THICKNESS .0002 - .0004

The stud has a head with an OD of .715" and a height of .458" and a 1/2" x 13 x .960 long thread shank protruding from the head (picture a cylinder stacked on top of a cylinder).

The entire process from stud creation to receiving the inserted molded parts takes about 9 weeks including transportation (1 week machining, 3 weeks brazing silver pad, 3 weeks plating, 2 weeks molding). Plating is done after the brazing operation. In the injection molding process, mold temperature is 310deg F and the thermoset material temperature is about 120 deg F.

The end result is finished bases (each base has 4 studs) with almost black studs. Although most bases have 4 black studs some have three, some two. The others are the normal bright shiny tin.

Dennis Herdegen
Program Manager - Sarasota, Florida
---
August 26, 2010
Given that there are additional processes between plating and your receiving, it's tricky being specific. That said, there are a few possibilities to be considered.
1) Is the tin plating to spec? Too thin, and you could have copper migration through the tin deposit. Bright tin could have burning of the organics in the deposit or residues from insufficient rinsing.
2) Does the tin look proper prior to molding? Many plastics release fumes that can be corrosive, though tin is generally resistant to corrosive environments (back to organic/migration issues).
3) Ancillary chemicals, such as mold releases, may also be a factor.
Mike Burnson
- Chicago, Illinois