topic 55478
Touch-up of scratches in the olive drab cad plate finish on MIL-DTL-38999 connector shells
August 4, 2010
We are currently refurbishing some ground based military communications equipment that has been out in the field for two to three years. The equipment has a number of MIL-DTL-38999 type military connectors that are going to be reused. These connectors are fully functional, but the olive drab chromate / cad plate finish is scratched and our quality department wants the scratches touched up to prevent corrosion.

We suspect that the scratches have not penetrated through the cad plate to the underlying aluminum base metal.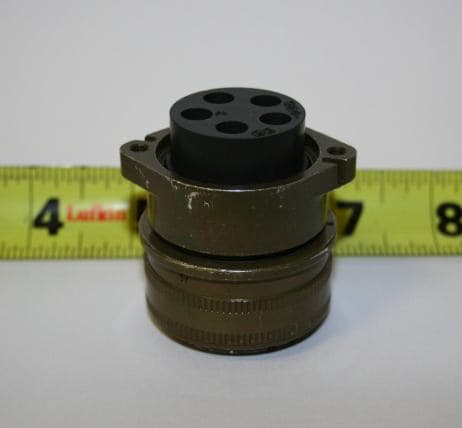 Is there a touch-up olive drab chromate that will work. An exact color match is not necessary.
Theodore Hotz
Quality Assurance & Product Integrity - Taunton, Massachusetts, USA
---
August 10, 2010
Dear Mr Hotz,

The scratches are on the chromate layer are the result of normal wear and tear caused by handling. The plating is generally unaffected by these scratched white spots. Its not necessary to repair the coating on this account but a simple epoxy paint sprayed on should be enough and will prolong the overall life of the parts. Avoid any chemicals!
Khozem Vahaanwala
Saify Ind
Bangalore, Karnataka, India
---
September 1, 2010
Olive Drab finish over cadmium on MIL DTL connectors is electrically conductive and optically dull, and is required to be both. Epoxy coatings will ruin the electrical surface conductivity of the original finish and cause the connectors to not ground correctly to the mates through their shells, ok for some applications, but a disaster for others. Also a shiny surface is a problem in some cases as it can make an otherwise dull surface glint in the sun. Do not use organic films or coatings without express direction from the customer!
Jonathan Kanner
- Santa Barbara, California, USA
---
September 3, 2010
Get some olive drab chromate for cadmium compound and make it up a 2X regular tank concentration, add 0.1%/wt ammonium bufluoride, swab it on with a Q-tip until the color nearly matches.
Robert H Probert

Robert H Probert
Robert H Probert Technical Services
Garner, North Carolina


If you have a question in mind which seems off topic, please Search the Site