Not a lecture hall but a roundtable with a seat for you!
60,000 topics spanning 36 years. Education, Aloha, & Fun
topic 55478
Touch-up of scratches in the olive drab Cadmium plate finish on MIL-DTL-38999 connector shells
A discussion started in 2005 but continuing through 2020
2005
Q. I need to know if there is a way to "touch up" the missing olive drab color on a part.

Thank you,
Debbie Haslam
- Ontario, California, USA
---
---
To minimize search efforts and to offer multiple viewpoints, we combined previously separate threads onto this page. Please forgive any resultant repetition, failures of chronological order, or what may look like readers disrespecting previous responses -- those other responses may not have been on the page at the time :-)
---
---
August 4, 2010
Q. We are currently refurbishing some ground based military communications equipment that has been out in the field for two to three years. The equipment has a number of MIL-DTL-38999 type military connectors that are going to be reused. These connectors are fully functional, but the olive drab chromate / cad plate finish is scratched and our quality department wants the scratches touched up to prevent corrosion.

We suspect that the scratches have not penetrated through the cad plate to the underlying aluminum base metal.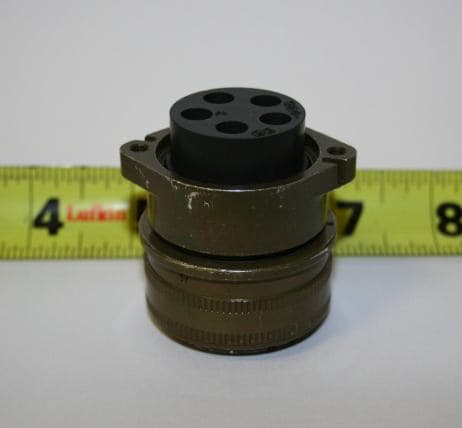 Is there a touch-up olive drab chromate that will work. An exact color match is not necessary.
Theodore Hotz
Quality Assurance & Product Integrity - Taunton, Massachusetts, USA
---
---
June 27, 2012
Q. I have seen a couple of recipes for this solution but I can't seem to find Kenvert 11 which is an acidic solution that needs to be mixed with Ammonium bifluoride. Any help will be appreciated. Thanks.
Woon San Joe
- Long Beach, California, USA
---
---
Olive Drab cosmetic touch up
March 19, 2020
-- this entry appended to this thread by editor in lieu of spawning a duplicative thread
Q. Hello,

I have some D38999 connectors that have a olive drab alodine finish and they got scratched. I touched up with the touch n prep pen, however I cannot get the color back of course
Do you guys recommend any type of a paint that I can put over it just for cosmetic purposes?

RP Singh
- New York
adv.