Where the world gathers for
plating, anodizing, & finishing Q&As since 1989
-----
Recovering gold from gold plated rims [Utah]
July 28, 2010
Hi, I just bought a set of 4 rims that are gold plated. The guy paid 750 per wheel to have them gold plated and I want to take the plating off. They are aluminum wheels underneath and the aluminum has begun to corrode leaving the gold plating to a flaking stage. you can pull it off at many spot. from reading this it is obvious that gold plating is salvageable.
is there any way to do such a big object.

They are completely dipped inside and out and are 17x9 rims. should this yield quite a bit of gold?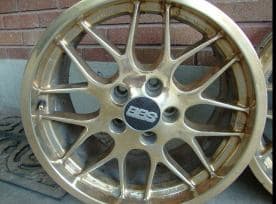 Craig Fenn
hobbyist - Provo, Utah
---
August 2, 2010
The total gold on the rims is probably less than 0.1 troy oz. That's worth about $120 maximum...if it were pure gold. Since the best you could hope for would to be recover it as several gallons of hazardous solution, I doubt you would find anyone to buy it.

There's precious little gold in them thar rims.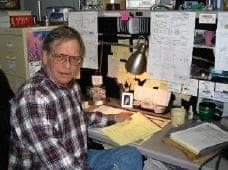 Jeffrey Holmes, CEF
Spartanburg, South Carolina
---
August 7, 2010
I'm looking more for how it can be done without damaging the wheel.

Craig Fenn
- Provo, Utah, USA
---
August 10, 2010
The gold is very thin, and you could just buff it off with one of those kits that uses a hand drill and compound. However it is not the gold which is flaking, it is the nickel underneath the gold, and you cannot buff that off because it is too thick and too hard.

Take your rims to a plating shop which can chemically strip them. They won't look very good afterward, but you can buff them bright. It will be a lot of work, maybe 3-4 hours per wheel.

Originally, they would have been clear coated or anodized, and you could have that dome again.

By the time you do all that, it will be cheaper to buy new ones.

The unfortunate truth is that gold plating them was a bad idea in the first place. I hope you didn't pay much for them as they aren't worth much.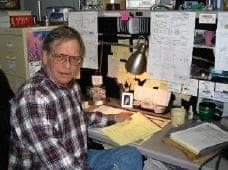 Jeffrey Holmes, CEF
Spartanburg, South Carolina