Where the world gathers for
plating, anodizing, & finishing Q&As since 1989
-----
Chloride Upstream of Bright Acid Tin [Colorado]
July 28, 2010
We are in the position of needing to put bright acid tin over a Wood's Nickel strike on a part made with both mild and stainless steels. Recently, our tin lost its solderability, and we believe it is because of slow but sure drag out of chloride ions from the Wood's bath. We have two static rinse tanks between the nickel and tin baths. The second tank circulates through an ion-exchange filter.

I am wondering what sort of filter would work to pull chlorides out of the rinse tanks between the nickel and tin. Does anyone know of a proven solution to this problem?

Thanks,

Michael Costello
Engineer - Grand Junction, Colorado, USA
---
July 30, 2010
I have always promoted ( but never convinced cheap managers) to use a TIN STRIKE to act as a "sewer" to catch drag in impurities, then the more expensive, higher purity, regular plating solution "sees" only tin, and remains purer for longer periods of time.

Robert H Probert
Robert H Probert Technical Services

Garner, North Carolina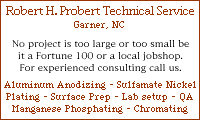 ---
Dear Michael,

Not knowing your exact installation, but I would be more afraid of the drag-in of Nickel from the Wood's strike, which will be plated out together with your Tin in the Sn-electrolyte, thereby deteriorating your Sn-solderability. The chloride doesn't seem the culprit to me. Correct me if I'm wrong.
Why not use a mixed bed ion resin to clean the second rinse? Mr. Robert's remark is for sure a very good one too, however to install an extra process in an existing installation could be a costly exercise, best would be to combine these two actions. (Only additional rinses will be dangerous as you have a change that your nickel surface becomes passive, the strike mentioned by Mr. Robert acts as a re-activation as well.)
Furthermore, there's a Dutch saying "meten is weten" which translated means "if you measure, you know". I would also implement Ni measurements for your Sn-electrolyte and set a limit, based on your past experience as well.

Best regards,
Harry van der Zanden
- Budapest, Hungary



---

Mr. Probert,

That's a very good idea. We find that replating over the chloride contaminated coating restores solderability to our parts, so having a strike layer to catch contamination prior to adding a clean layer would work perfectly.

Now to sell management on the idea...

Michael Costello




- Grand Junction, Colorado, USA




---
August 4, 2010
Why not convert the first rinse tank to a flowing rinse with a low flow rate vs a static. Adding a spray rinse over this tank is a good source of fresh water and has the effect of an additional flowing rinse. A bit messy, but certainly a lot cheaper.
James Watts
- Navarre, Florida