Where the world gathers for
plating, anodizing, & finishing Q&As since 1989
-----
Reasons for Zinc-Nickel bolts rusting? [United Kingdom]
July 23, 2010
Hello,

We are a supplier of assemblies, with aluminium corners and bolts, to the automotive industry. Our bolts are manufactured in China, with Zinc-Nickel plating and clear passivation. These bolts are then assembled in China into aluminium corners and sent to the UK to the manufacturer.

We have had not issues for three years. However one batch of the bolts was recently sent by our customer to a different assembly line in Singapore (I only mention this to highlight the different whether conditions) and a handful of bolts are showing red rust (no apparent white rust at all).

1,200 hr Salt spray test certificates of batch of bolts after plating show the bolts passed without a problem, with 8 microns of plating. The bolts are clearly plated as otherwise they would be black due to heat treatment.

Things that we are considering could have gone wrong:
1. Some of the bolts missed part of the plating process. However the plating company says this is almost impossible.
2. The sea travel of the bolts means these bolts were exposed to humid salty air for at least 60 days. But if bolts pass 1,200 hr salt spray test, this should not be an issue. Right?
3. There are thinners and other cleaning agents stored in the same area as the bolts in Singapore. Although people work in such an environment and so cannot be too bad a working condition. Could this have cause the plating to react?

We are lost as to what could be causing this issue. Any suggestions from you experience would be appreciated.

Hans Anand
Buyer - London, United Kingdom
---
Dear Anand,

Plated components during sea travel trend to lose protection because of salty atmosphere.
It is advisable to take care in your packing area( your point No.2)
Volatile Corrosion Inhibiting (VCI) Packaging will help.Try to catch hold of manufacturers of this.
best of luck




T.K. Mohan




plating process supplier - Mumbai, India






---

Hans,

If the only thing to change in your process is the use of a different assembly company one would suspect that they are doing something to compromise the coating. So start with talking to them and find out what they are doing that may be different from the previous company and see if this may have affected your product.

Now, if this is shown not to be the problem then it may be that these bolts are a little thin on the coating. I would suggest sectioning one of the bolts and measuring the thickness microscopically.

Other potential causes of corrosion may include the packing materials used to transport the goods (wood is not a good thing to pack zinc in unless the zinc is very well protected as the resins in the wood and also the glues used to assemble the boxes often give of acidic vapours that cause corrosion) or an imbalance in the zinc and nickel in the alloy plating (although I would expect to see all parts in the batch of bolts plated at the same time to illustrate this problem).

Unfortunately relating salt spray failure times to real time situations is misleading and not an good indicator of how parts will perform in the field, so ignore that. Salt spray is a quality control tool, not an indicator.

Brian Terry




Aerospace - Yeovil, Somerset, UK




---
August 3, 2010
Dear Anand,

This may be due to batch variation in zinc nickel alloy plating since you have mentioned Red rust which indicates very poor thickness of Zn-Ni alloy deposit.

Also very poor chromate or no chromate over zinc nickel alloy also would have caused the galvanic corrosion.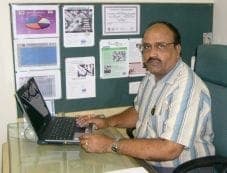 P. Gurumoorthi
electroplating process chemicals< - Chennai, Tamilnadu, India
---
August 20, 2010
The ratio of zinc and nickel failed!
Mike Dil
- Kunshan, China