Where the world gathers for
plating, anodizing, & finishing Q&As since 1989
-----
Alzak, still available? Any alternatives?
July 19, 2010
Q. I've been doing some recent research and found that Alzak trademarked finish might be a coating of interest to me. Sadly, all info I can find links to www.anobrite.com which is now a site on how to wash your car (!) Has the company holding the trademark died off?

Is this essentially a bright dip for aluminum? Are there other products that are similar? Of particular interest is the solar absorbance vs. emittance ratio which is probably why it's used in lighting reflectors.
Ken Jacques
Product Design - Meriden, Connecticut, USA
---
July 22, 2010
A. The company that used the trade name "Alzak" was bought into another company. I cannot give commercial names here but you can contact finishing.com direct and they can tell you who NOW has Alzak.

Robert H Probert
Robert H Probert Technical Services

Garner, North Carolina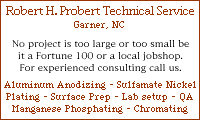 ---
July 22, 2010
Hi. Actually, if you know who currently owns the trademark, Robert, I see nothing wrong with answering -- especially because I don't happen to know :-)
But if it's not Alcoa, may I guess Albright & Wilson? :-)
Regards,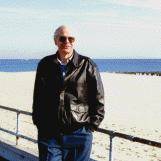 Ted Mooney
, P.E.
Striving to live Aloha
finishing.com - Pine Beach, New Jersey
---
"Surface Treatment & Finishing of Aluminium and Its Alloys"
Wernick, Pinner & Sheasby
from Abe Books
or

Affil. Link
Your purchases make finishing.com possible
July 23, 2010
A. My 1957 Georgia Tech Professor would say, Bob, you have been weighed and found "wanting", for Alcoa surely is not out of business, but they did shut down the new Kensington Research Station which did some work on ALZAK which they mention in their 1956 Aluminite booklet, but do not give a formula.

I have found the formula in Sheasby/Pinner's book and will be glad to copy and FAX that page to your correspondent.

Robert H Probert
Robert H Probert Technical Services

Garner, North Carolina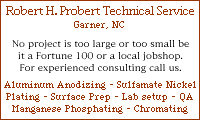 ---
July 26, 2010
Q. It seems Huntsman has bought out Albright & Wilson (at least Albright's web page redirects to Huntsman) or Rhodia Group if you look it up on Wiki, but I haven't found any info regarding Alzak. I'm more concerned with the nature of Alzak. Are other aluminum bright dips the same? Is it a known combination of phosphoric/nitric and/or sulfuric acids? I'd like to compare it to other bright dip products.
Ken Jacques
- Meriden, Connecticut, USA
---
July 27, 2010
A. For the record, Albright & Wilson had no involvement in Alzak.
A&W sold their business to Rhodia who in turn sold the surfactant business to Huntsman. Part of the metal finishing business went to Atotech and the aluminium finishing to Thermphos.
Bob, would you mind outlining the Alzak process please?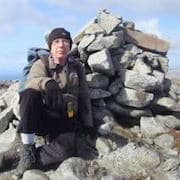 Harry Parkes
- Birmingham, UK
---
May 23, 2014




Did Rhodia purchase Albright & Wilson in 2001, and its website is www.rhodia.com?

Best regards,
Alex

Alex Au




- Hong Kong China






----
Ed. note: As you see, Alex, we appended your question to a thread where Harry Parkes "pre-answerd" it :-)



---
July 30, 2010
A. The S & P book has one page on Alzak, printed out over two pages in the book. I will copy and FAX to anyone who sends their FAX number (no charge in the USA, otherwise, you pay my FAX expense) Quoting directly from part of the data:

"The standard fluoborate method employed a 2.5% solution of fluoboric acid which could be make up by mixing 40 gm of boric acid with 100 gm hydrofluoric acid (48%) and allowing to cool. this mixture which contains 37.5% fluoboric acid (HBF4) with an excess of 7.5% boric acid, was then diluted by 20:1 to reach the working concentration. ammonium bifluoride could be added to improve conductivity. The electrolyte was operated for 5 - 10 minutes at 15-30 volts at approximately 30 °C (85 °F), the current density being 1 - 2 A/dm2 (10-20 amps/sq ft).

Reflectors brightened by the Alzak process were normally anodized by the sulfuric acid process, e.g. in 7 -12% (vol) sulfuric acid at 25 °C and 16-22 volts for 10 minutes, followed by sealing in boiling water for 10 minutes. "

Robert H Probert
Robert H Probert Technical Services

Garner, North Carolina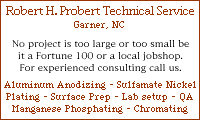 ---
March 14, 2011
Q. My long dead father worked for Aluminite and Alzac in their Hammersmith, London, UK plant just after the end of the Second World War. Anyone out there able to give me any information, please? I do know that a few years later he was involved in the development of inorganic coloured anodizing of aluminium, and we have many examples of the different colours produced.
Anthony G Tottle
- United Kingdom