Where the world gathers for
plating, anodizing, & finishing Q&As since 1989
-----
Laser marking using shielding gas (like during welding)
July 5, 2010
Q. I have heard rumors that having a laser marking machine that can provide shileding gas (like during welding) it is possible to make a laser marking that does not need passivation after laser marking to avoid corrosion attack?

Today we do laser marking followed by a "double" passivation step. A single passivation step was not enough and showed corrosion in a salt-chamber test. But "double" passivation did the trick.
Bo Jensen
product designer - Denmark
---
July 9, 2010
A. Bo,
Laser marks have always been an issue with stainless and passivation.

The shielding gas sounds like an interesting idea, though I'm not sure the analogy from welding fully carries. In welding, you get what is known as the heat affected zone (HAZ), where the metal becomes hot enough for the atomic structure to rearrange itself. This impacts the corrosion resistance and usually also shows up as a blue line (composed of carbides, if I recall correctly). Passivation restores the corrosion resistance to the HAZ. The shielding gas prevents oxygen from reaching the HAZ while is it hot and prone to reaction. It does not prevent a HAZ, but it prevents the formation of nasty oxide scale at the HAZ.

Now, I'm not a laser guy, I just deal a lot with the effects of laser markings. I would suspect it is a rather similar but different effect than welding, the laser impacts the surface leaving behind a black mark, and depending on the power, sometimes a slight etch as well. It's entirely possible the mark relies on oxygen to form, I really don't know. What I do know is that the marking process disturbs the surface in some way that leaves a lot of free iron, which means the mark must then be passivated. Oftentimes this is a delicate balance as well, most marks are not durable enough to withstand a long exposure to the passivation acid.

As with anything, the proof is in the pudding. If a gas shielded laser marker can give a reliable mark without producing the free iron, something that is rather easily tested, I think the industry would rapidly adopt the technology.

Ray Kremer
Stellar Solutions, Inc.

McHenry, Illinois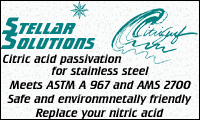 ---
May 21, 2012
Q. What mixture of gases is used in laser cutting and marking machine?
Mohammad Waseem
- Lahore, Pakistan