Where the world gathers for
plating, anodizing, & finishing Q&As since 1989
-----
Same spec but two different anodizing finishes
June 29, 2010
Hello,

We do not have an anodizing line so we send our parts out.
I received some parts back that have two totally different finishes. They are supposed to be Chromic anodize per Mil-A-8625F type 1 class 1. The material is 7075-T6511.
I have enclosed a picture of 2 parts. One is so gold it looks like chem film.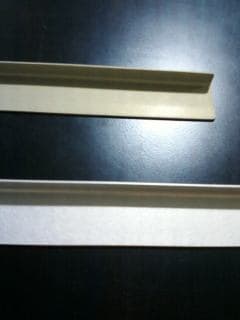 Can I get some feed back on whether these are quality parts or any opinions at all would help.

Thank-you,
Micheline Forth
Finisher - Rincon, Georgia, USA
---
First of two simultaneous responses -- July 1, 2010

The top part looks like it was chromic anodized with a dichromate seal.
I would question the loser part, rather than the top one, but pictures do not always portray colors and textures well enough to make valid comments.
Chromic acid anodizing solutions that do not have much aluminum dissolved in it will have a green look and are legal, just look different. As the tank increases in dissolved aluminum, the parts will gradually shift to a gray color.
The lower part appears to be bright, which might have something to say about the preprocess steps as well as probably a thinner anodize layer and no dichromate seal.
Ask each for salt spray results and for coating weights, and when it was run and was it on 7075 coupons.
James Watts
- Navarre, Florida
---
Second of two simultaneous responses -- July 2, 2010

Look at the thickness or coating weight comparison. My guess would be that one house used a 22V process and the other a 40V process. Actually, the standard 40 volt process won't produce much of a coating, if any, on 7xxx series aluminum. Another possibility would be the type of seal used following the anodize: one dilute chromate sealed and the other hot water or full strength dichromate. The type of seal results in wide variation in color. Why did you choose to use 2 different houses for anodize? If you're not specifying the type of seal or restricting to one job shop, you have nowhere to look but in the mirror!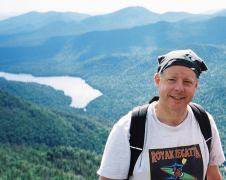 Milt Stevenson, Jr.
Anoplate Corporation

Syracuse, New York
---
July 7, 2010
I'm sorry for the misunderstanding. These are from the same shop in the same batch - same part #.
Maybe one got sealed and the other did not.

Thank-you for your responses.
Micheline Forth
Finisher - Rincon, Georgia, USA