Where the world gathers for
plating, anodizing, & finishing Q&As since 1989
-----
How can I best rustproof forged steel gates prior to painting ?
June 22, 2010
hi, I am a traditional blacksmith in the north of England , I create superb quality products but always have concerns regarding the best method of rustproofing items intended for external use. I have tried hot dip galv but it leaves sharp solidified drips which if I were to remove them could render the steel open to corrosion. I have heard of "spin-galv" but understand that because this process utilises a centrifugal force , it is only suitable for smaller items eg;nuts and bolts, etc. I am price conscious , but would like not only to supply my customers with the best possible hand forged ironwork , but also have confidence in its longevity. any help or advice would be much appreciated
thank you,
Dave Johnston
blacksmith - Alston, Cumbria, United Kingdom
---
First of three simultaneous responses -- June 26, 2010

you could try Zinc spray galvanizing
bu you have to shot blast the job before galvanizing
Abbas Rangoonwala
- Pune, India
---
Second of three simultaneous responses -- June 26, 2010

Hello Dave,

Hot Dip Galvanized spots that have been ground off may not necessarily rust since the rest of the zinc around the ground area will continue to protect the gate. However I would suggest that you continue with Hot dip as the first layer, finish grinding and filing, Phosphate again and and lastly use a thick UV resistant Powder Coating layer on the top.

This should get you past 10 years easily without maintenance.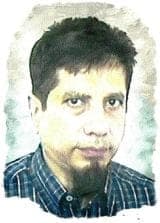 Khozem Vahaanwala
Saify Ind

Bengaluru, Karnataka, India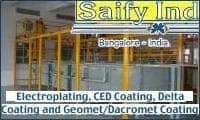 ---
Third of three simultaneous responses -- June 27, 2010

A zinc phosphate conversion coating or a zinc phosphate primer would help to improve adhesion of paint coating and prevent under film corrosion. They are cost-effective.

T.S.N. Sankara Narayanan
- Chennai, Tamilnadu, India
(ed.note Nov. 2017: The good doctor has a fascinating blog at https://advancementinscience.wordpress.com)
---
June 29, 2010
A lower price option that should work is to sand blast the entire gate on a dry day and immediately spray it with "cold galvanize". It comes in a spray can and is a very zinc rich primer.
Your choice of paint will depend on the abuse it will take. Powder coat is great, but not many places can do a gate. A 2 part epoxy that is formulated for outdoor use (sunshine) would be a reasonable top coat. A polyester might work as well as some polyurethanes (many tend to be brittle)
James Watts
- Navarre, Florida
---
July 7, 2010
What's the typical carbon content of your works? I typically associate traditional blacksmithing with high carbon irons, like cast iron. Metallic coatings don't adhere well when the carbon content is too high.

The corrosion resistance from zinc galvanizing comes from the galvanic couple between zinc and iron. This allows for open contact between the iron and oxidizing environments. When electrons are stripped from an iron atom, a nearby zinc atoms donate their electrons to keep iron in the metallic state. If you think of iron as the president, zinc would be the secret service; its job is to take the bullet for the iron.
Robert H Kinner
- Toledo, Ohio
---
July 21, 2010
Try Hammerite paints(UK product!),for better protection pretreat with tannic acid based rust converter(simple DIY formula 20 gm tannic acid/15 gm phosphoric acid/1 lit water,very strong tea can be used too).2 coats of iron oxide based paint+up to 3 coats black paint can be OK too(traditional lead/chromate/phosphate free solution)Hope it helps and good luck!
Goran Budija
- Cerovski vrh Croatia