Where the world gathers for
plating, anodizing, & finishing Q&As since 1989
-----
Plating Stainless Steel for Solderability
June 7, 2010
My company designs telecom avionics for the business aviation community. I am integrating a "Mini PCI card" into my product's motherboard assembly. However, the card's connector leaves a majority of the "Mini PCI card" hanging free like a diving board. Under the vibration typically seen in aviation environments, this is a problem.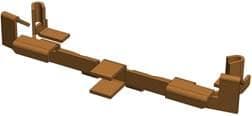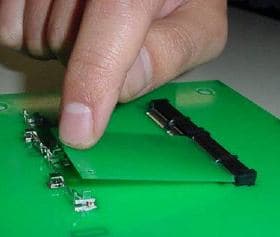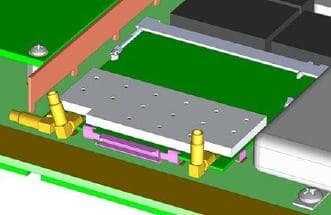 A couple of the major connector companies have developed a fix for this situation concerning a similar form-factor card called "Mini PCI Express", or Mini PCIe. The fix involves a formed copper alloy latch that is soldered to pads on the PCB under the free end of the Mini PCIe card, which secures it to the motherboard. Unfortunately, there does not appear to be a similar fix for the older "Mini PCI" form-factor.

I planned to design my own latch for the "Mini PCI" card based on the "Mini PCIe" latch design, but fabricating it out of a copper alloy is problematic. The design will inevitably involve more than one prototype iteration, and the blanking tool is too expensive. Laser cutting is out of the question due to off-gassing of the copper, so I was planning to try stainless steel, which has good spring characteristics upon which the functioning of the latch is based. However, soldering stainless steel directly to a solder pad on a PCB is challenging. I have investigated plating the stainless steel latch with tin or gold, but have not found anyone locally who seems knowledgeable enough to ensure some reasonable chance of success. Do you have any suggestions for the best stainless steel plating protocol to use for a situation like mine?
Jack Strandquist
Product Designer - Broomfield, Colorado, USA
---
June 9, 2010
Stainless steel is a terrible conductor of electricity, so if it carries any current, forget it.
As far as plating it, I would use a Woods Nickel Strike followed by a moderately thick plate of a solder if you can stand the lead. If not, go with tin. Use a stearate dip after plate to keep it solderable for a longer period of time. Store in appropriate conditions until soldered.
James Watts
- Navarre, Florida