topic 55101
Electroforming on Wax?
A discussion started in 2010 & continuing through 2017
May 27, 2010
Q. Hi all,

This is Rajesh from India. I am Hobbyist of wax art. Recently I read some article on hollow article prepared by using electroforming.

My idea is to create a wax art, paint it with electro-conductive material & electroform it using silver. I have searched a lot for electro-conductive paint for wax, but unable to locate any.

Please suggest me with the best option to do this (cheaper is preferred).

Thanks in advance.

Regards
Rajesh W
Hobbyist - Pune, Maharashtra, INDIA
---
May 30, 2010
A. Pranam Rajesh
Try graphite powder or bronze powder,you may prepare your own conductive paint-simply mix bronze powder with very diluted nitro lacquer.There are some very good infos on DIY electroforming, some good and download free books on electroforming can be downloaded from internet archive website (even booklet by M.H.Jacoby -inventor of process/in german -- but try google translator, it is free. Hope it helps and good luck!
Goran Budija
- Zagreb, Croatia
---
July 6, 2010
A. Hi Rajesh,

A lot of people are doing electroforming on wax. Silver conductive ink is the best option and is available. Try looking for it.
Regards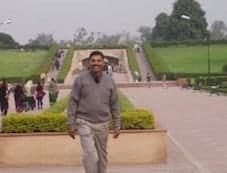 T.K. Mohan
plating process supplier
Mumbai, India
---
August 30, 2010
A. Silver Electroforming can be done on wax in a Silver Potassium Cyanide Electroplating bath with higher metal concentration.
If the wax piece is finished properly than the result will be good ... Use a fine copper powder mixed with NC thinner and NC lacquer and spray it on the wax, this will make the wax conductive ... rest of the electroplating process. If you want to make it hollow than you will have to deposit higher thickness, drain out the wax, and after that do the surface finishing. We are doing silver electroforming very effectively using the above process ....
Anand Khakhar
- Bhavnagar, Gujarat, India
---
September 20, 2011
A. Brass powder or gold powder or graphite powder; 3 powder : 2 lacquer : 16 thiner

Silver electroforming: 1-silver p cyanide, 2-potassium cyanide, 3-potassium carbonate, 4-potassium hydroxide, 5-antimony potassium tartrate, 6-selenious acid.
Good luck.
Majed Janineh
- Beith Lehem, Palestine
---
---
Plating of 3-D Printed Plastic Parts?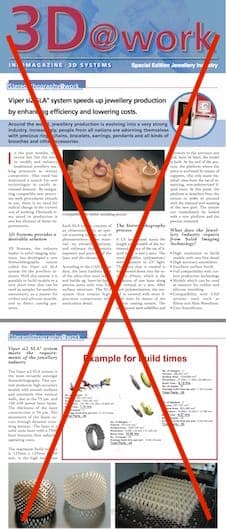 Ed. note June 2017: Sorry, 3D Systems has apparently withdrawn this pdf.
October 12, 2016
Q. SIR, HOW CAN I USE VIPER RESIN PART FOR ELECTROPLATING OF GOLD OR SILVER WITH 3 MM THICKNESS . PLEASE DESCRIBE BRIEFLY.
THANKING YOU IN ADVANCE.
PRATEEK PANDEY
- MUMBAI, MAHARASHTRA, INDIA
---
October 2016
A. Hi Prateek. By 'use Viper Resin', I assume you mean how can you create a part by 3-D printing using this resin, and then gold or silver plate it? =>
Well, you 3-D print the part, then you metallize it with ink or paint or electroless plating technologies to make it conductive, and then you are able to do the electroplating.
Obviously, each of these three steps are the subjects of entire shelves of books in libraries, but if you spend a few paragraphs telling us what you have experience in, and what you don't, we can start narrowing in on things that may be helpful to you. Good luck!
Regards,
Ted Mooney, P.E. RET
finishing.com
Pine Beach, New Jersey
Striving to live "Aloha"
---
October 13, 2016
Q. Thank you Sir For Your Reply,
Sir, You Are Right about 'VIPER 3D',my thought is to build a round ring with solid elliptical shape, having diamond groove and prong for diamond placement. Then i would coat it with a thickness of 0.8 mm which is necessary for diamond holding. Finally, I would drill at bottom to remove the resin via heating. It would help me create a hollow ring which would look a huge one but with less weight.
PRATEEK PANDEY
[returning]
- MUMBAI,MAHARASHTRA,INDIA
---
October 2016
A. Hi again. I'm not familiar with the Viper resin, but it is possible that it can be melted or otherwise dissolved away. So, if you have the 3-D printing mastered, your project doesn't sound much different than the electroforming of hollow gold jewelry, which is traditionally done on wax. Good luck
Regards,
Ted Mooney, P.E. RET
finishing.com
Pine Beach, New Jersey
Striving to live "Aloha"
---
---
Is it necessary to remove wax from hollow electroformed jewelry?
February 3, 2017
Q. Please tell me if I have to empty my electroformed gold pendant of wax for sale and how can I do it?

Best regards,
nina mohebi
- shiraz iran
---
February 6, 2017
A. It is not necessary to remove the wax, but doing so will make the electroformed product much lighter! You will, of course, use a low melting point wax and have designed the electroform to have an escape hole for it, so all you do is carefully heat the electroform to a suitable temperature and the wax will flow out. Alternatively, you can use a suitable solvent, but that will depend on the type of wax used

Trevor Crichton
R&D practical scientist
Chesham, Bucks, UK


This public forum has 60,000 threads. If you have a question in mind which seems off topic to this thread, you might prefer to Search the Site