Where the world gathers for
plating, anodizing, & finishing Q&As since 1989
-----
How to measure copper plating thickness on steel
May 21, 2010
WE ARE MANUFACTURERS OF WHITE METAL BEARINGS & COPPER PLATED GASKETS.

WE DID COPPER PLATING ON MILD STEEL, ABOUT 70 MICRONS ON EACH FACE.
FIRST FLASH COATED WITH A CYANIDE COPPER DEPOSIT,
COPPER PLATED.

QUESTION IS : WHAT IS THE ACCURATE METHOD OF COPPER PLATING THICKNESS MEASUREMENT & WHICH INSTRUMENT CAN GIVE ACCURATE READINGS.
MRUTYUNJAYA KATTEPPANAVAR
PLATING SHOP - KARNATAKA, India
---
First of three simultaneous responses -- May 21, 2010

That all depends on the accuracy that you need. A magnetic device may be all that you need. Beta back scatter would be better. Cutting a part for metallurgical examination is very accurate but destructive. If you need ridiculous accuracy, you are into very costly equipment such as SEM.
James Watts
- Navarre, Florida
---
Second of three simultaneous responses -- May 24, 2010

Dear MRUTYUNJAYA KATTEPPANAVAR,
if you want the value with more accuracy, measure with X-ray.
Kannan Boopathi
- Salem, Tamil Nadu, India
---
Third of three simultaneous responses -- May 24, 2010

X-Ray Fluorescence can do it non-destructively with the proper thickness calibration.

Terry
Terry Tomt
- Auburn, Washington
---
May 25, 2010
Dear Mrutyunjaya Katteppanavar:

70u can accurately be measured by cross sectioning and calibrated microscope. However the cross sectioning is time-consuming and needs skilled people who know what they do.
I wonder if XRF can do the job, ask the suppliers for XRF layer thickness machines (UPA, Seiko, Matrix Metrologies, Helmut-Fischer, SII Nano technologies to name a few).
If this equipment cannot, a cheaper alternative is couloscopic measurement (again Helmut-Fischer, but more suppliers are available). Maybe start with the couloscope question and if this can't, think about the XRF. Both are quite big investments (the XRF app 3 times higher than a couloscope) the cross sectioning is cheap but as said needs skilled persons to give the accurate results it can give.
Before you buy any of these instruments, ask for a hire period and perform in that period an R&R study. You will not be the first one who's disappointed in the performance for your specific application. Or specify exactly what you really need and so expect. Bought is bought.

Best regards,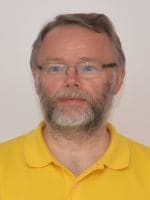 Harry van der Zanden
- Budapest, Hungary
adv.: