Where the world gathers for
plating, anodizing, & finishing Q&As since 1989
-----
Will chlorine dosing hurt stainless steel heat exchanger?
May 9, 2010
We are a company in Iran and our field of activity is power plant industries.
In one of our projects we want to change the cooling system of power plant from wet system to heller type or dry type.
In one part of this changing, we should use the heat exchanger which exchanges heat between demineralized water to cooling water.
For the reason of prevention to grow weeds we add some chlorine to cooling water.
Now the non-clarified point for me is the effect of chlorinated cooling water on subject stainless steel heat exchanger.
So anyone is kindly requested to help me.
Regards.
Shahab Valamanesh
Engineer - Tehran, Iran
---
May 11, 2010
Shahab,
Prolonged exposure to high levels of chlorine is damaging to stainless steel, however I suspect if you hold your chlorine level to the bare minimum required to prevent growth it might be okay. If you want, you could repassivate the exchanger every now and then (annually or biannually, perhaps). You could also look into biocides that aren't chlorine based.

Ray Kremer
Stellar Solutions, Inc.

McHenry, Illinois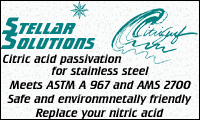 ---
May 12, 2010
Perhaps look into ozone. It's a more effective biocide, shouldn't etch the stainless, and it's a lot safer to handle.
Robert H Kinner
- Toledo, Ohio, USA
---
May 21, 2010
Yes. Chloride ions are extremely good at corroding metals, even stainless steel. Try using either ozone or even a good UV lamp

Trevor Crichton
R&D practical scientist
Chesham, Bucks, UK