topic 5502
Need Help Regarding Nickel Growth on Bottom of Mandrel Sheets?
(2000)
Q. I currently work for a nickel refinery, and we are working a project which would allow the elimination of teflon masking sticks to be removed from the bottom of mandrel sheets. However, when we removed these sticks, we came across a problem which resulted in nickel growth of 1/4" at the bottom of the sheet as well as up along the sides. How we can solve this problem of nickel growth without having to use the teflon masking sticks? I am looking for anyone that can help me or give me some advice on how to go about this. The following is some detailed info about this process:
Stainless sheets are printed with epoxy ink and baked in the oven at 550 degrees for 1 ± hours , and then masking sticks are attached. Next the sheets are placed into the plating cell for 5 days for round nickel growth. Those sheets are then placed into cathode boxes which consist of a wooden frame to which a cloth diaphragm is attached to each side in between sulfide anode. Anodes ( nickel sulfide ) are cast from molten matte in the smelter. A suspension bar with two lugs are cast into the top of the anode provides support and electrical contact for the anode in the plating tank.
What would be the detailed process of chemical and equipment source of eliminating nickel growth on the bottom of the stainless steel mandrel sheet? What precautions should be taken for this process? Your help would be appreciated Yours Sincerely Amit De
Amit De
Thompson, Manitoba, Canada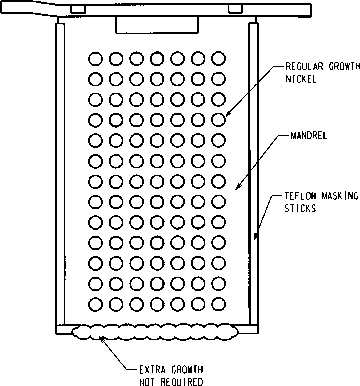 ---
A. Hi!
I would say that your epoxy ink is being damaged after curing, exposing a path for the electric current, and causing the plating where you have indicated. In most cases, the bottom is damaged during transportation, since that is where they are dragged along the ground before they are loaded into the cell.
This is a typical problem in rack plating. The teflon masking stick is apparently ineffective because the current will find a way to the cathode, no matter how tiny the scratch. The plating will still begin at the damaged ink, and progress up around the stick, finally covering it. Once the plating starts, it becomes a larger target and the extra growth becomes exponential.
If the ink were not compromised and offered enough resistance, you should not need another mask, such as the teflon sticks.You could make carriers for the mandrels so that the ink is not scratched, as it seems that everywhere else along the mandrel, the ink holds.
Regards,
Tom Pullizzi
Falls Township, Pennsylvania
---
(2001)
Q. We use an epoxy based plating resist on stainless steel mandrels in a nickel plating bath. The resist lasts about 7 cycles through plating, stripping, etc. The ink is applied by silk screening and then cured at 500 degrees F for one hour. It has been suggested that annealing (slow cooling from the 500 degrees) may extend ink life. I think this is unlikely, but have limited experience to judge the idea. Any thoughts?
Don P
[last name deleted for privacy by Editor]
- Thompson, Manitoba, Canada
---
(2005)
Q. Hi.
Amit, from whom the original request was made, has since retired. This is still an ongoing problem for us. We realize that our biggest issue is associated with how the mandrels are handled. However, we are still looking for the ULTIMATE MASKING solution or stick. It may not be in the form of a stick. It may be a rubber bonded edge, a paint, or a two piece stick with a different profile to what we are using now. If any company in the industry has a product that you would like us to investigate, we are willing to consider it.
Thank you.
Laila Sedore
- Thompson, Manitoba, Canada
----
Ed. note July 2012: We recall a newspaper Advice Column wherein the inquirer described spilling red wine on her blouse, and the columnist opened with "If the spot is still wet ..."

Think about that :-)
The point being that any response you can offer will be helpful to many readers even if you feel that the original inquirer might no longer benefit from it.


This public forum has 60,000 threads. If you have a question in mind which seems off topic to this thread, you might prefer to Search the Site