Live! From beautiful Pine Beach New Jersey: Welcome to the world's most popular metal finishing website
topic 54962
General Metal Finish Selection
May 4, 2010
I work for a company that builds high level motion platforms and flight simulators. I have been tasked to research the numerous types of finishes for steel, aluminum, and stainless steel. I have found a great deal of information on many types of metal finish (painting, powder coating, anodizing, zinc plating, passivating, etc.). Is there a book or tip to know what type of metal finish will work in any situation? Any advice would be greatly appreciated.

Thanks,
Steven Lansrud
Project Engineer - Orlando, Florida, USA
---
May 21, 2010
You did say any advice. #1. I think you should rephrase your question as it applies to your end product and the environment it will be working in. #2. To achieve a good coating on alum parts, you need a good surface prep. For thick coatings the recommendation is abrasive blasting to increase the surface area. For greater life of that coating, a chemical treatment is recommended after blasting. For tight tolerance parts, a much smoother surface is recommended then anodize. There are still many more options.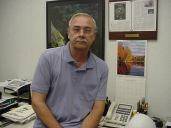 AF Kenton
Hatboro, Pennsylvania


If you have a question in mind which seems off topic, please Search the Site