Live! From beautiful Pine Beach New Jersey: Welcome to the world's most popular metal finishing website
topic 54928
Creating a rusted pattern on fabric
April 29, 2010
Q. Hi, I'm creating a sculpture of a particular jellyfish, with a beautiful rusted pattern
most of the posts I've seen for rusting are for metal only.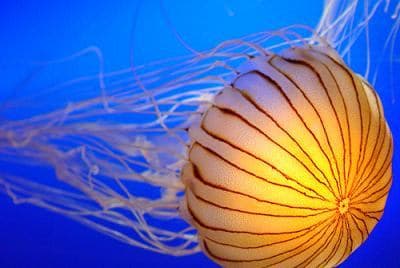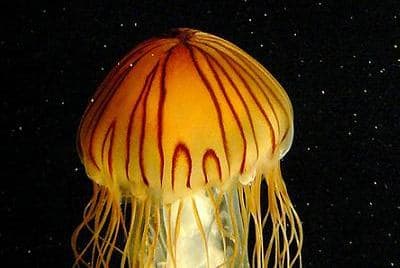 Do you have any suggestions for me to create

1) a rusted pattern...to transfer onto fabric [most likely it'll be on white silk]
2) thin lines, not necessarily clean lines
3) what is the quickest, cheapest metal to use
4) what process would be the quickest, most natural [lemon juice/vinegar as a opposed
to chemicals]. how quick can I expect that brown color? Is there a way to control the color of the rust and how it spreads?

thanks!

Sincerely,
Puiyee Cheung
sculpture - Shanghai, China
---
April 29, 2010
A. Find a piece of plain steel, the cheaper the better.
If you can, have it sand blasted to white metal and then, with a block, sand it to as smooth a finish as you desire. Medium roughness would probably work best. Mask off the parts that you do not want to rust. Cheap paint will work. This will leave you a pattern of active metal. With a spray bottle, wet it with a vinegar and salt mixture or have one bottle of vinegar and one of salt solution.
Wet the part twice a day and keep outside in the shade.
Expect rust in a few days and heavy rust in 2 weeks.
Rinse the part with clean water and put your cloth over it with a damp towel over that to hold it down. Peek at it once in a while to see how much rust transferred to the cloth. I will guess 12 to 24 hours.
Iron the cloth with as hot an iron as the cloth will take to set the iron stain.
Hope this helps.
James Watts
- Navarre, Florida
---
November 12, 2012
Q. I am an artist using the iron rust on fabrics and canvas. I need to find a solution to protect the rust from going out of the canvas or the fabrics -- something like fixative for pastel, etc.
Mohamed Alastad
artist - UAE


If you have a question in mind which seems off topic, please Search the Site