Where the world gathers for
plating, anodizing, & finishing Q&As since 1989
-----
Adhesion failure plating electroless nickel on F357 Casting
April 27, 2010
We are experience adhesion failures on impregnated F357-T6 castings. Part receives the following preparation cycle: non etch cleaner 140F, 30 sec caustic etch 130 F, HF/Nitric
12 sec, nitric de-smut 30 sec. Bondal (zincate 1 time)1.5 min. EN Strike 7 min. EN Plate 8% phos, Plating duration approx. 50 min.

After cool down cycle, tape test is performed. Failure is obvious. Part is stripped and re-plated. Critical area is specified to be 12 finish after strip 12 is not possible.

Please review our pre-plate and strip processes. Sometimes we have luck but not reliable processing for volume orders. I have suggested customer redesign away from plating casting directly and move to use of stainless, Be/cu to be attached to the casting.
RC Stertz
CEO - Garland, Texas, USA
---
May 5, 2010
RC,

About the only thing I would have done different is a strip zincate in 50% nitric acid and re-zincate prior to the nickel. This is not an uncommon practice in the Aerospace business.

If this doesn't improve adhesion then it may be due to porosity in the casting. This may be overcome by impregnation, obviously adds cost though.
Brian Terry
Aerospace - Yeovil, Somerset, UK
---
May 16, 2010
You should adjust the time in the zincate. At 1.5 mins you are forming too thick of coating. You should try 45 second dip in the zincate.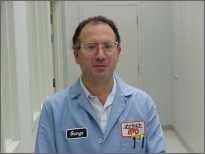 George Shahin
Atotech - Rock Hill, South Carolina
---
May 17, 2010
1. Stay out of the alkaline etch. It decreases the area of aluminum and increases the area of silicon -exactly opposite of what you want. 2. The "EN strike" should be the alkaline type strike. 3. Use a 30 second dip in 4 oz/gal baking soda between the zincate and the alkaline EN strike. 4. In the rinse before the alkaline strike, make alkaline with ammonium hydroxide. Otherwise follow all of the previous advice ESPECIALLY cut the time in the zincate as the previous adviser suggested.

Robert H Probert
Robert H Probert Technical Services

Garner, North Carolina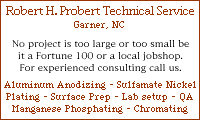 ---
May 19, 2010
I would try to get the bondall rep and the EN rep in the plant at the same time to talk about proper plating. I do not like your prep cycle any more than the comments given. Zincate is a difficult step as there are only extremely poor visual indications, and too much is as bad or worse than not enough.
It is very do-able when done correctly.
James Watts
- Navarre, Florida