Where the world gathers for
plating, anodizing, & finishing Q&As since 1989
-----
Medical Implant and Instrument Passivation

Q. Hi All,
I hope this is a simple question...
My customer is asking us to do a boil test for implantable screws (medical device). I realize I just need to boil water, but this is a medical device, and I need to control temperature, etc. I understand the test method, but I can't seem to find a simple solution to the equipment needed. Can anyone provide recommendations for equipment for this test? It should maintain temperatures between 95 and 100 °C and have something to hold the parts in that is not metal (i.e. a non-rusting container). A timer would be nice, but not required. It should have a decent chamber as we make other devices, such as large pins. Does such equipment exist?
Deana Baker
- South Bend, Indiana
September 14, 2022
A. Deana,
I think a hot plate and glass beaker or glass tray should do in most cases. There's likely no need to over-engineer something for this. Smartphones have timers in their clock apps.

Ray Kremer
Stellar Solutions, Inc.

McHenry, Illinois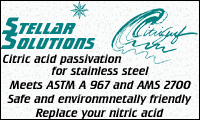 ---
---
---
Closely related historical posts, oldest first ...
Verification Tests for Cobalt Chrome Passivation
Q. Hi All,

I work for a manufacturer. We currently passivate a range of stainless steels in Citric or Nitric solution (depending on customer requirements) and use Copper Sulphate and Boil tests as verification methods.

We are now looking to passivate some cobalt chrome implants in Nitric Acid. Can anyone suggest any verification methods for testing the effect of the passivation on cobalt?

Thanks,
James Dodds
Quality Engineer - Sheffield, United Kingdom
May 12, 2009
---
A. James,
Passivation tests for stainless steel are checks for the presence of free iron on the surface, and you would want a passivation test for non-ferrous alloys such as your cobalt chrome to do the exact same thing. Go ahead and use copper sulfate and/or the boil test.

Ray Kremer
Stellar Solutions, Inc.

McHenry, Illinois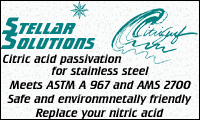 ---
---
To minimize searching & thrashing, multiple threads were merged; please forgive repetition, chronology errors, or disrespect of other responses (they probably weren't there) :-)
---
---
Q. Hello,

I am a quality engineer for a contract manufacturer of medical implants and instruments. Historically, we have always passivated our stainless steel instruments in Nitric Acid. However, we are now embarking on end-to-end projects which will require we passivate our Titanium and Cobalt Chrome implants also.

I've been advised that Stainless Steel passivation should have its own line and be kept separate from Ti and CoCr. I'm assuming this is because it is a ferrous material. Is this correct? I've also been advised that Ti and CoCr can be passivated in the same line.

Is any of this laid out in a spec, or would anyone be able to advice me on what is considered good practice within the industry?

Thanks
James Dodds
Quality Engineer - Sheffield, S.Yorks, United Kingdom
April 21, 2010
---
A. Refer to standards like ASTM F86 [affil. link] Standard Practice for Surface Preparation and Marking of Metallic Surgical Implants and ASTM B600 [affil. link] Standard Guide for Descaling and Cleaning Titanium and Titanium Alloy Surfaces.
Toby Padfield
automotive component manufacturer - Michigan
---
A. The titanium line definitely needs to be separate or you will have a much shorter tank life.
What alloy are you talking about with CoCr?
James Watts
- Navarre, Florida
---

Thanks for the responses.

We are processing CoCrMo per ISO 5832-12
James Dodds
[returning]
- Sheffield, S.Yorks, United Kingdom
May 6, 2010
---
A. James,
In this situation I presume "passivation" for the Ti and CoCr means removal of any actual or potential surface contaminant iron. As such, this is the same thing that a passivation treatment of stainless steel does and the same procedures can be used.

Perhaps with nitric acid passivation baths there is a need to keep separate non-ferrous and stainless lines. With citric acid based passivation it can all be done in the same bath.

Most of the specs and standards refer to pickling (scale removal) of Ti and other non-ferrous alloys (usually with something utilizing nitric acid) but there is little about just passivation (iron removal) for these metals.

Ray Kremer
Stellar Solutions, Inc.

McHenry, Illinois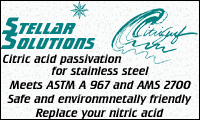 ---
---
Passivating Cobalt Chrome implants ... nitric vs. citric acid
Q. My shop performs hand finishing of Cobalt Chrome Femoral implants and I am about to validate a new clean line/passivation line. I would like to make the switch from Nitric to Citric if possible. What are the pros and cons for Cobalt Chrome? I know this is the age old debate, and I have done the searches, just don't see much on Citric in regards to Cobalt Chrome specifically.
Jason Bradshaw
Production Manager - Wallingford, Connecticut USA
October 7, 2016
A. Passivation of CoCr Femoral implants will not remove the carbides on the surface of the implants. Sooner or later such during constant friction these carbides will destroy the opposite surface of the implant construction. Carbides can be removed by special final procedures. Only later Nitric acid final passivation is applied.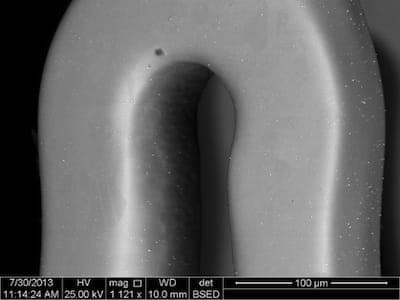 See images before and after.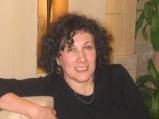 Anna Berkovich
Russamer Lab

Pittsburgh, Pennsylvania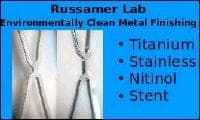 ---
A. When it comes to non-ferrous alloys I usually try to be specific about what we are talking about here. This type of passivation treatment, the one used for stainless steel, is for removing iron from the surface. If that's what you need, nitric will do it for you, and citric will do it with more safety and with less etching of other materials. This counts for CoCr, titanium, aluminum, Hastelloy, Inconel, etc., and so on.

If you can be certain there is no surface iron contamination, then you don't need passivation. If you need something different than iron removal, then you want some other process.

Ray Kremer
Stellar Solutions, Inc.

McHenry, Illinois