Live! From beautiful Pine Beach New Jersey: Welcome to the world's most popular metal finishing website
topic 54565
Coating identification from a picture
March 15, 2010
Hello,

My vendor in China has sent me a picture saying that the coating process has changed from "Yellow Zinc" to a more environmentally friendly process. Can anyone give me some insight on what they think this coating is and how its durability may compare to the previous yellow zinc, also pictured in the image.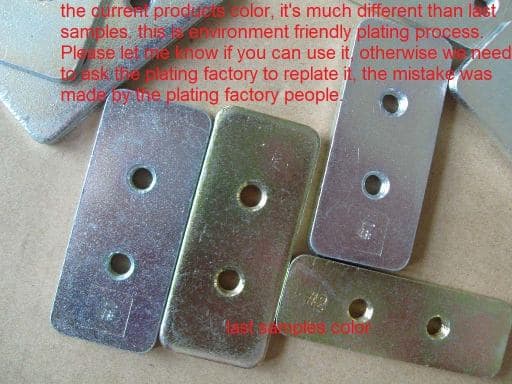 This is for a roof rack accessory (outside of a car) and is not cosmetic but must endure harsh auto environments for a minimum of three years.

I know this isn't much info to go on, but I thought I'd ask if someone can guess what sort of plating they applied to my steel stampings.

-Tim
Tim Scales
Product Designer - Boulder, Colorado
---
First of two simultaneous responses -- March 17, 2010
Tim,

It looks to me like they have changed from a hexavalent chromium passivate to a trivalent passivate. Most suppliers of trivalent passivates will claim their product has a similar level of performance to hexavalent. I am not convinced. If you want to "belt and braces" the job consider a final clearcoat varnish for your product.
Brian Terry
aerospace - Yeovil, Somerset, United Kingdom
---
Second of two simultaneous responses -- March 17, 2010
Hi, Tim. Step 1 is have the parts salt spray tested and not allow them on your product if they do not pass industry standards. Step 2 is to immediately hire a plating or fastener consultant to write a finishing specification. In this age of product liability, the idea of a roof-mounted auto component, attached by fasteners that are not to any specification at all is scary.
Regards,
Ted Mooney, P.E.
finishing.com
Pine Beach, New Jersey
---
March 17, 2010
Our vendor has none of the test equipment we need to perform a salt spray test and I doubt I can afford to run it here.

The vendor has offered to have the parts re-plated in Yellow Zinc but I'm concerned about the plating thickness in the threads and the second coat of plating not performing because of the original layer of plating.

Thank you very much for your thoughts and feedback.

-Tim
Tim Scales
- Boulder, Colorado, USA
---
March 18, 2010
Hi, Tim. The yellow zinc is presumably not RoHS-compliant, which is probably why your vendor felt obligated to change it. He will probably strip the old plating before applying new plating.
I feel a reasonable responsibility to try to make my answers and other answers in this forum not misleading through silence on a subject, but I'm not here to lecture anyone either. So I think you got the thrust of my first comment and I'll leave it at that. Good luck.
Regards,
Ted Mooney, P.E.
finishing.com
Pine Beach, New Jersey
---
March 18, 2010
Tim,

Brian is almost certainly correct. Many of the recently introduced tri-Cr based passivating/seal/conversion coats result in a blue-tinged appearance and that's what it appears you've gotten from your supplier. Matching performance of hex-Cr based passivate has been a long time coming but several tri-Cr based chemistries we've tested over the past ~5 years are at least on par with the long-used, hex-Cr based products.

Brian's 'belt & braces' expression must be the UK version of the 'belt & suspenders' quip often heard in the USA. :) If salt spray testing happens to show you are losing some protection but you also want to stay "green" with the tri-based seal, one way to increase performance (add some suspenders) might be to slightly increase the thickness of the zinc plate that you are specifying, perhaps replacing, say, 3 - 5 tenths of a mil to 4 to 7 or 5 to 8 tenths or something similar.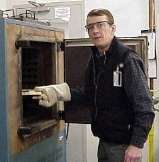 Thomas Hanlon
, Materials Engineer
aerospace finishing - East Hartford, Connecticut, USA
---
First of two simultaneous responses -- March 23, 2010
Tim,
From the photo,the Blue coloured plating is something same as Tri Cr3 Blue and the Yellow is the Hex-Cr6.
Hope this helps.
Cheam S.E
- Sungai Petani, Kedah, Malaysia
---
Second of two simultaneous responses -- March 23, 2010
Thank you very much for all the feedback. If it were my company I would invest in the testing services or equipment (or just use a much more reputable vendor).

I encourage the lecture as well - sometime we could all use a sanity check and coating are by no means my forte'.
Tim Scales
- Boulder, Colorado


If you have a question in mind which seems off topic, please Search the Site