Where the world gathers for
plating, anodizing, & finishing Q&As since 1989
-----
Corrosion problems on copper-nickel plated zinc parts exposed to toilet cleaning liquids
March 4, 2010
We are buying zinc parts in China with ~30 µm Cu, 18 µm dual layer Ni and porous Ni (not porous Cr). The parts are CASS tested and get a result 7-9.

The parts are geometrically complicated (holes, and inside curvatures that is difficult to polish) and in this way will never get a full good protection.

The parts are used for toilet seat. and the customer makes a home made test where the parts are dipped into toilet cleaning liquid (5-10% HCl, ammonium and alcohol ) for 48 hours. 90% of the parts pass this test with none or only very very little corrosion traces. The last 10% is very aggressively attacked by the liquid and gives a deep black corrosion in 20% of the area. The corrosion material expands a lot.
But the corrosion is not in the area where the coating are most thin which we feel is strange (eg. inside holes) where we every time see corrosion after the CASS test. The black corrosion also occurs on the surfaces where we normally would expect a good coating.
~10-30% of the a part is corroded. The other 70-90% of the area look like new.

The Chinese supplier suggests an increased Cr layer because this Cr could/should give a better resistance to this kind of corrosion. But my feeling is that it cannot be the reason because then we should always see the black corrosion in the deep holes.

(parts from another coating supplier with a weaker coating above test made the parts look like copper. So the liquid does etch Ni and Cr. But why do the parts sometimes pass this test and look like virgin parts and sometimes fail completely (20% corrosion)?

It is like on/off corrosion. Can anyone give us an explanation of what kind of corrosion this is and why it is happening?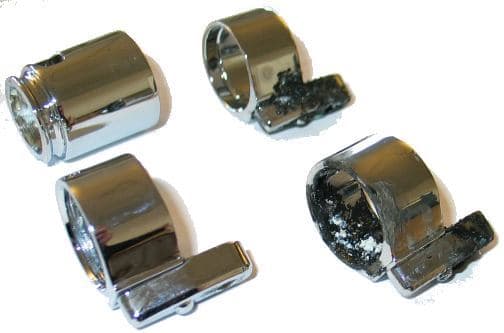 Carsten Norgard
development engineer - Randers, Denmark
---
March 10, 2010
Dear Mr Nogard,

Thanks for the interesting question and pictures as well.

You need to apply a PVD hard Coating on top of the chrome as an additional protection from the cleaning acid.

There is nothing you can do with the copper-nickel-chrome because in my opinion the parts look perfectly plated.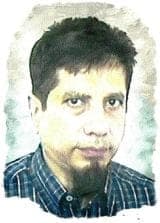 Khozem Vahaanwala
Saify Ind

Bengaluru, Karnataka, India