Where the world gathers for
plating, anodizing, & finishing Q&As since 1989
-----
Clear coat for bottle cap floor?
February 26, 2010
Q. This question is different from the table top epoxy resin post I read (letter 17560) because this is a floor application.
I tiled my MAN CAVE bathroom floor with bottle caps (approx. 8,650 caps), I plan to grout it and apply a protective clear coat on top. What is a clear coat that bonds to metal(caps), is non-yellowing, and will withstand foot traffic? Any advice is appreciated.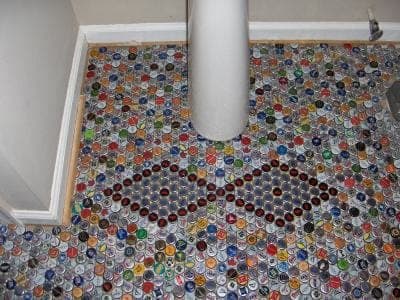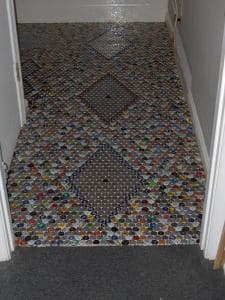 Dave Riley
hobbyist - Lynchburg, Virginia, USA
---
March 3, 2010
A. Dave,

First, that is one of the coolest ideas I have ever seen.

Second, I would suggest some type of polyurethane that you might use to finish wood. You can get ones that are very hard and can be built up in layers. You also might want to see if one of those garage floor epoxy systems comes in a clearcoat version.

Whatever you do, I would suggest two things. First, make sure the caps are filled in the back so they don't bend. Second, the best way to test is to get some test caps, make up some test pieces with various coatings/resins/etc, and step on them!

Again, that's one of the neatest things I've seen.
Christian M. Restifo
- Pittsburgh, Pennsylvania
---
March 5, 2010
A. All I can say is "GOD I HOPE THEY ARE ALL BEER CAPS!" And. I really don't think you have to worry about filling the caps prior to grouting them into place. Bottle caps are tough little suckers just try putting one on a cement floor and stepping on it. If you happen to have them arranged in the fashion of your photos I think you could probably drive a car over it. You may want to tack then down with contact cement before you begin grouting them in though. :)

Rod Henrickson
gunsmith - Edmonton, Alberta, Canada
---
May 22, 2010
Q. I would love to how you did this..i.e. products used, and whether you found a sealer. We are considering doing this to a floor we have and we have been doing some research, and you floor is the closest thing we have seen to what we would like to do. Any help/advice/information would be appreciated.

And awesome job BTW!
Nicole Schroeder
- Kettering, Ohio
---
February 17, 2013
Q. Your work has inspired my son and I to design a new floor in our basement bathroom. Any design advice would be most appreciated. Also, where did you acquire all of those caps ?
Thanks,
Marilyn Janosko
- Roanoke, Virginia
---
February 17, 2013
A. Hi Marilyn. The caps for these projects usually come from drinking a huge lot of beer. Since that portion of the project doesn't seem, shall we say, attractive for a mother-son team, you can get bottle caps on Amazon.


Pourable clear coats are available.

. . . but I'd try a small square and see how it holds up to foot traffic, and to appreciate the cost, before attempting a whole room. Good luck.
Regards,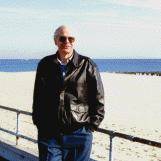 Ted Mooney
, P.E.
Striving to live Aloha
finishing.com - Pine Beach, New Jersey
---
February 20, 2013

Thanks for the Amazon info! While the beer drinking is not a horrible idea, my son is under age, and I, personally prefer a nice Pino Noir :) but cork flooring isn't nearly as colorful or durable as bottle caps. Maybe I'll place my children and their friends on an unrestricted Orange Crush and Root Beer extravaganza. Thanks again. Your floor is amazing
Marilyn Janosko
- Roanoke, Virginia
---
---
November 18, 2014
Q. Hi I am currently collecting bottle caps and was going to use them on a wall design but having seen your floor idea I am thinking we can use them to cover a small toilet area floor that we have in our micropub. The only thing that bothers me is whether I could achieve a finish that is non slip? The toilet is mainly used by our customers but we are only a small establishment.
Mrs Jay Topham
micropub - Henlow, Bedfordshire England
---
February 15, 2016
Q. What type of clear coat did you apply to your beer cap floor? We just completed our floor and are wondering what product to use for final sealing? Thanks
Jacki Naddeo
- Marlton, New Jersey, USA
---
September 27, 2016
Q. Hi.
This is amazing & we want to make a bottle top floor for our kitchen. Couple of queries please; would the glaze become damaged with a fridge or using a washing machine sat on it? Also, when pouring the glaze on top of the caps, it would obviously run to the edges but we wouldn't want to waste the glaze under the kitchen units, is it feasible to edge the bottle caps forming a mold or do you have a better idea?
Tracy Burgoyne
- York, UK