Serious Education ... plus the most fun you can have in metal finishing.
Is there hexavalent chromate in dichromate sealed or chromic acid anodized components?
A discussion started in 2002 and continuing through 2017 . . .
(2002)
Q. A colleague of mine at a major electronics OEM has indicated that sodium dichromate sealed sulfuric acid anodized aluminum parts can, if not controlled properly, show presence of CrVI in the coating. I'd like to know if anyone else has heard of this happening and if so to what extent?
Apparently this has been a issue plaguing my colleague's chromate immersion process. I am therefore concerned that acid anodized parts that use dichromate sealant may have a similar problem.
Has anyone experienced formation of CrVI within the conversion coating as a result of improperly controlled trivalent anodize/sealant processes? If so:
1)How common is this problem?
2)Can you recommend a lab that can discern CrIII from CrVI within the conversion coating? ....What is the best analytical technique to do this?
3)Is the CrVI found under the anodized coating or sealant and if so how is it best to prep samples for analysis?
4)How much CrVI have you or others found in coatings formed by improperly controlled CrIII processing? ....Are there some literature references on this?
5)What is the process window for critical parameters, e.g., How can one specify correct process constraints to suppliers to prevent this?
Thank you in advance for your consideration.
Mark Newton
- Cupertino, California, USA
---
(2002)
A. Sodium dichromate is a hexavalent compound, I don't see why you would not have traces of hexavalent chromium in the sealed coating.
Tom Pullizzi
Falls Township, Pennsylvania
---
(2002)
A. Hi Mark. I have to agree with Tom. Although there are trivalent chrome treatments for certain types of processing (the TCP process for Mil-DTL-5541 conversion coating and proprietary trivalent conversion coating for zinc plated components, for example), the traditional dichromate seal is a hexavalent process (dichromate is Cr2O7-- so the chromium ion is hexavalent).
There may be a proprietary trivalent substitute for it, although I haven't heard of it myself; if you are using a proprietary trivalent substitute though, the vendor may have some data on the issue of the trivalent ions going hexavalent in service, but quantifying the anticipate amount is a tricky issue because there are countless variables. Good luck.
Regards,
Ted Mooney, P.E. RET
finishing.com
Pine Beach, New Jersey
---
---
October 30, 2008
Q. Tartaric acid anodizing (TSA) and boric sulfuric acid anodizing (BSAA) are developed as alternatives to chromic acid anodizing due to REACH regulations. We are looking for an alternative to chemical conversion coating meeting the requirements of Mil-DTL-5541 [link is to free spec at Defense Logistics Agency, dla.mil] and Mil-QPD-81706 [link is to free spec at Defense Logistics Agency, dla.mil]. For the being time, we are using Alodine 1200s. Alodine 1200s is insulating material itself, however when we apply to Aluminum surface thin layers, we obtain Class 1A and Class 3 coatings according to MIL-DTL-5541 where the parts are conducting electricity.
My question is: if we apply thin layers of TSA or BSAA can we obtain Class 1A or Class 3 parts?
Thank you in advance
AYSUN AKIN
ENGINEER - ANKARA, TURKEY
---
November 5, 2008
A. Aysun,

Anodising is not conversion coating and so will not meet the requirements of Mil-DTL-5541 [link is to free spec at Defense Logistics Agency, dla.mil] regardless of class.

What you need to do is talk to your customer and see if they would consider TSA or BSAA as a replacement for the MIL-DTL-5541.

The other possibility, if it is allowed by your customer, is to try the non-chromate conversion coatings. Again make sure you communicate with your customer at all times as this will involve a design change and could potentially affect the functionality of the part.
Brian Terry
Aerospace - Yeovil, Somerset, UK
---
---
February 24, 2010
Q. I hope someone can help. Our company has been asked about converting to Tartaric acid/sulphuric anodising from Chromic acid anodising due to our customers desire to comply with the European REACH legislation. As REACH relates to 'substances of concern' being present in the finished article, then is there any Chromate in the surface of a component that has been chromic acid anodised? If not, then surely the REACH legislation should not apply to CAA finishes.
Thanks in advance for any response given.
Mark Lees
company chemist - Isle of Man, British Isles
---
February 25, 2010

A. Yes, CAA has chromate in the finish, however, for REACH compliance you may be able to claim an "article exemption". Read more about REACH as it applies to metal finishing here: http://www.nmfrc.org/compliance/reach.cfm

Tartaric-sulfuric acid anodizing and boric-sulfuric acid anodizing are both replacement chemistries aimed at eliminating the chrome of chromic anodizing. It may make business sense to switch to one of these processes anyway rather than try to achieve an article exemption under REACH. BSAA is much more of a tried & true process by many shops in the U.S. compared to TSAA.

There is one more thing to consider. A switch to TSAA or BSAA doesn't necessarily ensure REACH compliance as those coatings, last time I checked, still relied on a dilute chromate seal.

Jon Barrows

, MSF, EHSSC
Springfield, Missouri



---

February 26, 2010

A. Mark,

I am assuming that someone has asked if any of your parts contain Substances of Very High Concern (SVHCs)at concentrations greater than 0.1% in accordance with Article 33 of the regulations.

The current SVHCs listed that contain hexavalent chromium are the following:

Sodium dichromate (both anhydrous and dihydrate)
Lead sulphochromate yellow (C.I. pigment yellow 34)
Lead chromate molybdate sulphate red (C.I. pigment red 104)
Lead chromate

Chromic acid anodising utilises chromium (VI) oxide and is not currently listed as a SVHC and so does not need reporting. Even if some of the chromium (VI) oxide was left on the surface, it still doesn't come under the reporting requirements of REACH.

I will say that I expect chromium (VI) oxide to be included in one of the next two or three SVHC lists (currently being published annually), so it will only be a short stay of execution before it does come under Article 33 reporting requirements.

Brian Terry




aerospace - Yeovil, Somerset, United Kingdom




---
---
Is there a Trivalent Chromic Anodize?
March 19, 2015
Q. Has anyone out there ever heard of a trivalent chromic anodize? Are any research facilities even looking into this? I know there is MIL-A-8625, TYPE IIB as a non-chromic alternative but I am hoping someone is developing a trivalent that meets the requirements of Type I or AMS 2470.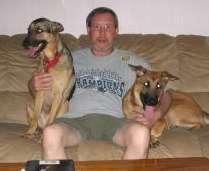 Tim Hamlett, CEF
aerospace metals distributor
Tamarac, Florida, USA
---
April 2, 2015
A. Hi Tim,

As far as I am aware research has really only gone in three directions, all are modified sulfuric acid anodizing solutions.

There is the boric-sulfuric system, which is a Boeing process (problem with introducing this solution into the EU as Boric Acid is proposed for REACH Annex XIV Authorization and may well be heavily regulated)
There is the tartaric-sulfuric system, preferred by Airbus and finally there is Thin Film Sulfuric Acid Anodizing (TFSAA).
One problem with all of these solutions is that the resultant coatings need to be sealed in a dichromate solution, so negating the benefits of moving away from the Cr(VI) anodizing solution!

You could look at rather more exotic coatings such as Tagnite, Tiodize and Keronite, these all work on a very different system of anodizing, but worth a look.
Brian Terry
Aerospace - Yeovil, Somerset, UK
---
---
Chromic Acid Anodising REACH push back
February 23, 2017
Q. Does anyone have any information on the proposed push back for CAA in the UK?

We are currently running some TSA trials but almost everyone I talk to in the Industry is waiting for the push back rather than looking for an alternative.

We are awaiting results from running TSA using Surtech, a trivalent chrome based additive, for sealing. Has anyone used this or any other product?

Eagerly awaiting your responses.....Julian
Julian Rees
Treatments shop manager - Redruth, Cornwall UK
---
February 27, 2017
A. Hi Julian,

I think it depends which business you are talking about. Aerospace has pushed back heavily because of the cycle time of a product, often well beyond 50 years. It's not that we don't want to change, but the change is going to mean some major commitment to re-qualify products and get customer approval for the changes. 7 years is probably not going to be enough time for us to complete this task. My company has over 75,000 separate part numbers that are chromic acid anodised. The solution is not a drop-in replacement, so we will have to look at what level of re-qualification is necessary to change.

That is not to say we are not looking at replacements. My company started looking at thin film sulphuric acid anodising a while back, alongside TSA, both with a self-formulated low temperature trivalent chrome seal (can't give you any information on that as it is IP protected at the moment). The problem, as you are well aware, is the cost of the research and implementation of changes.

I'm sure that your customers will be very interested in the work you are doing and what your results are. I think your customers are struggling with finding drop-in replacements as much as you are suffering from push back on chromic acid anodising replacement technologies.
Brian Terry
Aerospace - Yeovil, Somerset, UK