Live! From beautiful Pine Beach New Jersey: Welcome to the world's most popular metal finishing website
topic 54431
What is this process (not Aurora plating) called?
February 23, 2010
Q. Ok let me start by saying I need help bad!

Local to me a company does plastic chroming, black chrome look, and titanium look.

I make machined aluminum parts and this coating would be better for me on some items vs anodizing. The look alone is worth it.

So I will detail how the parts look after they were treated.

1. The part started off as a machined item with a dull finish. They claimed they polished it to get a reflective finish, but I can see some of the brushed finish still, it wasn't deep to start with.
2. The color looks like Titanium when heated, but the end result here is a TI look and very reflective, but if you focus you can see through it 100%
3. I took them a plastic headlight housing from a Lexus, it's already chrome colored plastic, they also sprayed this to look TI, the undercoat makes it look shiny. Any surface scratches show through, even if they are faint, but I need to get this process in my shop.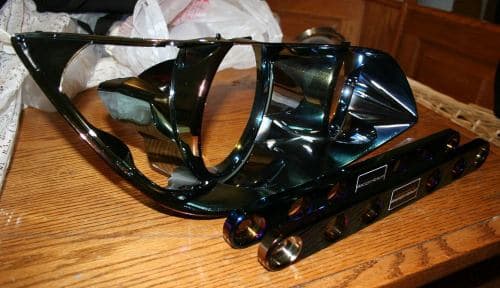 So at the end of the day, I don't think this shop gets the items nickel plated, chromed, then have the Aurora process done [Ed. note: "Aurora" is a "oil slick like" coating on very high end paintball guns].

After some reading I think they spray a Titanium Nitride or something like that then maybe hit it with some volts? They also claim to bake the items also.

Also another thing I noticed there is a touch mark on the plating where it looks like a different color. They talk about batch of colors, baking, etc. I think this is to toss us off.

Now if they were a little more aware of their quality standards we would have zero need to find out about this, but if I'm going to put something on someone's car, it better be good enough to go on our car.

Thanks
David
David Beck
product designer - San Jose, California
---
February 23, 2010
A. Hi, David. Go for whatever look you like, and others can help you to whatever extent they wish, but I'm personally not big on reverse engineering; I'd rather you develop a process of your own rather than try to figure out someone else's and then fix it.
But any time you see "oil slick" colors, whether on carnival glass, titanium jewelry, or anywhere, it's usually a very thin transparent coating of variable thickness, which generates this interference pattern because some light bounces off the front surface, and some off the back surface, and they interfere.
I would be concerned about the long-term durability of any such thin coating on exterior automotive parts unless you have good experience towards trusting it. I have heard about cars that have been painted with a "chameleon" paint which offers varying tint depending on angle of view, and you might see if any users have talked about its durability. I would guess that the main coating on your parts is black nickel or black chrome electroplating, and that it is topped off with this diffraction coating, which I would guess could likely be a UV cured organic, or possibly a PVD coating. Best of luck.
Regards,
Ted Mooney, P.E.
finishing.com
Pine Beach, New Jersey
Striving to live "Aloha"
---
---
Oil Slick finish? Aurora? What is this finish on aluminum?
January 14, 2014
Q. Hello,

I'm having difficulty identifying a particular type of finish on aluminum. It's been called 'oil slick" and 'aurora' but it I haven't read or heard any clear answers about what type of finish is this. Can you help? I have several aluminum components (a bicycle frame, parts) that I am seeking to have finished in this method; having the proper name for the type of finishing process would help my inquiries with local service providers. See the included images...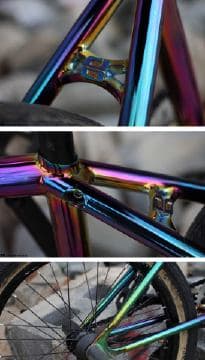 Alex Amerri
Artist/Product Designer/Amateur - Los Angeles, California, United States
---
December 5, 2014
The finish on the bike looks like PVD (Physical Vapor Deposition). The different companies that do it have multiple finishes, some call it Aurora, Oil Slick, or Spectrum.
Daryl Pruett
- Mission Hills, California USA


If you have a question in mind which seems off topic, please Search the Site