Live! From beautiful Pine Beach New Jersey: Welcome to the world's most popular metal finishing website
topic 54427
Swimwear Hardware Inquiry
February 22, 2010
Hello Everyone,

I am the owner of a new clothing company that specializes in swimwear, based in the Northeastern United States. At the moment, we're in the process of sourcing custom metal ornamental hardware, but we've run into a bit of a proverbial brick wall regarding information on the matter of surface finishes.
We've consulted with many US-based casting, plating, and jewelry professionals and thus far no one has been able to give us an answer in regards to what possible finish/coating/lacquer/plating we could use that would satisfy the following requirements:

-Polished Gold appearance

-Corrosion resistant in seawater and chlorinated water

-Relatively inexpensive (in other words, no precious metals)

-Decent durability

We would appreciate any feedback, suggestions, or information concerning this dilemma, and we thank you for taking the time to help us.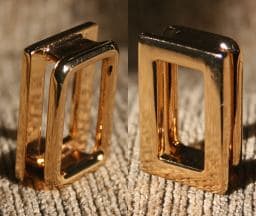 Elias Lallos
Fashion Designer, CEO - Burlington, Massachusetts, United States
---
March 3, 2010
I would suggest you look into a hard nitride deposited by CA-PVD. Zirconium nitride is probably your best bet. We've done some salt fog testing of various nitride coatings and it performed the best by far. It is also a light gold in color. CA-PVD (cathodic arc physical vapor deposition) is the least expensive method of applying the coating and yields the highest adhesion to the substrate. You should be able to find a supplier.
Jim Treglio

PVD Consultant - San Diego, California
---
March 4, 2010
I would suggest investigating some copper-based alloys. There are a number of them that have been developed for good corrosion resistance, and possess a gold color. Many of the world's coinage (Euro is one) use gold colored copper alloys. The Copper Development Association has an extremely thorough website with information on alloys, properties, etc.
Toby Padfield
Automotive component manufacturer - Michigan, USA


If you have a question in mind which seems off topic, please Search the Site