Live! From beautiful Pine Beach New Jersey: Welcome to the world's most popular metal finishing website
topic 54366
Gold won't stick to SS parts
February 15, 2010
I am a small surgical instrument distributor/manufacturer. I use an instrument repair shop to Gold Plate most of my semi-finished instruments, i.e., ones that I take handles and have carbide inserted for cutting or grinding. A recent batch of blank handles will not take the gold plating well. It looks mottled and spotty. He plated one of the old blanks and several other instruments easily. These had been worked on by others, but even the untouched blank does the same thing. All of the instruments were cleaned an handled the same. He said that these new ones seemed to boil when he did the Nickel strike. It's a 400 series SS. These came from the same vendor as before (China) and I'm told it's the same metal. Any ideas as to what this could be? I need to get these plated Soon. I'm considering using the Auruna 311 process, but I can't find anyone here that does it.
Joe Black
COO for surgical supplies company - Tucker, Georgia, USA
---
February 17, 2010
Joe,
I'm sure your platers look at the work after cleaning, activation and rinse but these steps cannot be ruled out as the cause of the problem. Nickel strikes are low efficient baths, so cathode gassing is normal. Low Ni metal concentration and high current densities cause gassing. I've never heard the term "boil" during nickel strike, so I gather your plater means excessive gassing, or more gas evolution than they normally see. There are things I would have the plater check.
1) Be sure all soils are removed after the cleaning process by a water break test.
2) Make sure the HCl dip is at the right strength and clean.
3) Be sure the parts are free of any residual films just before Ni strike.
4) Verify proper voltage and clean connections at Ni strike.
Just an added note,
Schloetter, a UK based company should have distributors here in the states. If they can't find you a plater of the Auruna 311 process, there are other reputable precious metal suppliers with good technical service nearby. They will reveal platers in the area that use a high acid gold bath that can plate directly over stainless steel.
I hope this helps you, and good luck.
Mark Baker
process engineer - Malone, New York
---
March 7, 2010
Hi Joe,

The remark of your plater makes me suspicious.... the "boiling" he refers to, does that take place already without having the rectifier switched on? If the answer is yes, it could be that the base material is dissolving with high speed in the Nickel strike, thereby releasing hydrogen gas, which gives the "boiling" effect.
This could mean that for sure you have a different base as was the case in the past. Sad to say, but don't always believe suppliers who say "nothing have changed".
Harry van der Zanden
- Budapest, Hungary
---
March 10, 2010
I agree with Harry. Stainless steel should not boil in strike nickel.
Something is wrong with your base material
Sara Michaeli
chemical process supplier
Tel-Aviv, Israel
---
March 19, 2010
There are gold plating processes specifically designed to plate directly onto SS. Speak to your gold suppler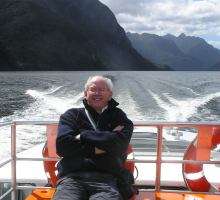 Geoff Smith
Hampshire, England


If you have a question in mind which seems off topic, please Search the Site