education ... fun ... aloha spirit
Chime right in! (no registration req'd)
-----
"How to patina a polished copper range hood"
February 11, 2010
We just had a very expensive large copper vent hood installed in our kitchen but want to have it aged to resemble a antique burnished copper look (darker browns with some character lines on it). Something with character and NOT the bright polished copper that it is now. Something with darker tones and character to match the cabinet color.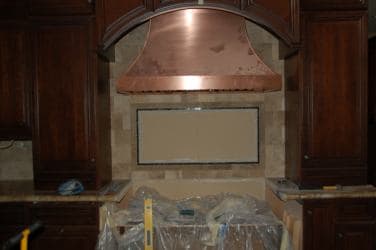 Any thoughts on how to accomplish this task? Faux painting an expensive copper hood seems a waste given what the copper hood costs and one would think that there is a chemical process that if applied by a professional could achieve the look or looks that we desire. This is a new home that is under construction but has a move in date next month.
How and/or what chemicals can be utilized to accomplish this task by a professional. Do you know of any professional finishers in the Southern California area that can assist me. This is for my home in Ventura County2000
Steve Kessler
Home Owner - Thousand Oaks, California
^
---
February 23, 2010
Steven, my company can help direct you to the proper chemicals and processes to get the results you are asking about. First, you will need to remove the clear coating over the copper which keeps it from tarnishing then apply patinas for copper. We make a Copper Patina Repair lit for owners of sinks and other items for small repairs but we can set you up with the correct products and advice to do it yourself. Contact us. Best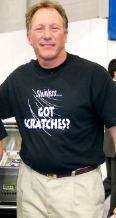 Barry Feinman
BarrysRestoreItAll

Carlsbad, California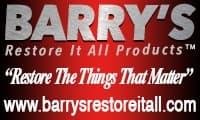 ^