Where the world gathers for
plating, anodizing, & finishing Q&As since 1989
-----
Hard anodized coating will not accept color (black)
February 4, 2010
Looking for possible solution/resolution for Dye not taking to aluminum part.
Our in-house plating dept is having difficulty getting our 7075-T73 aluminum parts (approx. 1" dia. x 6" tube) to accept black dye, and I have been tasked to help them. I have limited plating experience. But from what I am told, they are using a sulfuric acid tank to hard anodize per 7.5.2 of mil-std-171. They then folow that up with Black dye. The problem is that when they achieve the coating thickness per the spec. the black dye will not adhere to the coating. If they allow more coating, then they can dye the part but it comes out as a black/Bronze color.

Some thoughts/questions I had were as follows:
1)Is there indeed a direct correlation to coating thickness and the ability for it to accept the dye?

2)Could cleanliness issues with the tanks (acid or dye) be a problem?

3)Should parts be blasted prior to anodizing to achieve matte finish (lusterless/flat finish is required on print) and uniform color?

4)Good contact points on parts?

5)Would a different type of Dye (supplier) react differently?

Any thoughts, Ideas, or help would be greatly appreciated. These are DOD parts and we need to get them right.

Thank you for any help.
Randy Hilgenberg
Process planner - Rock Island, Illinois
---
First of two simultaneous responses -- February 5, 2010

1.You need at least 0.0004 with the best black dyes but the main criteria is the pore size Too Cold means pore too small, so try a higher temperature like 45 F or 50 F with additive.2.If the coating is uniform, then cleanliness is not the issue. 3.Be careful, manual blasting is not uniform so the magnified hardcoat will be splotchy. 4. Perfect continuous contact to deliver at least 24 amps per square foot is absolutely necessary.5.Some cheap dyes will not adsorb, try the best black dye and I cannot give a commercial here. , Thoughts: raise the temperature to get a larger pore, increase the concentration to about 200 gm/L to get a larger pore, use a better dye, even then, some forged heat treated 7075 will come out with a golden color.

Robert H Probert
Robert H Probert Technical Services

Garner, North Carolina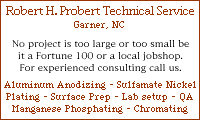 ---
Second of two simultaneous responses -- February 6, 2010

After the anodize rinse, try a diluted (30% or less) nitric acid soak for 5 minutes or so. Rinse, then proceed with dyeing.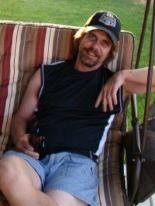 Marc Green
anodizer - Boise, Idaho
---
February 8, 2010
Contrary to what Mr.Robert H Probert say, I would suggest you to lower the temperature to -3 to 0 degree C (you did not mention your bath temperature though), additionally you should light etch or even not etch your 7075 material.
John Hu
- Singapore
---
February 24, 2010
Thank you all for your response... we have achieved the desired black color... and are in process of fine tuning the coating thickness. We were able to increase the temperature of the bath to 45 C-50 °C and looks good. Although... as Mr Probert, mentioned there is still just the slightest bronze color to the coating.

Thanks for all the help
Randy Hilgenberg
- Rock Island, Illinois, USA
---
February 25, 2010
Randy

Consider that your dye solution could be a factor. Make up a beaker [affil link] of fresh solution and dye a coupon for a comparison.
Willie Alexander
- Colorado Springs, Colorado