Where the world gathers for
plating, anodizing, & finishing Q&As since 1989
-----
Copper contamination in Hard and Type 2 Anodize Tanks
January 24, 2010
Need some help- Hard anodize tank is getting copper in it.
We sometimes do a Type 2 flash sometimes at different temperature.
If the copper count gets high we pump some then remake.Is it from the metal or change in temperature.
Thanks
John Merritt
planting shop - Gardena, California, U.S.A.
---
First of two simultaneous responses -- January 26, 2010

It is from the 2000 alloys. Sheasby/Pinner and Brace say the "limits" are 50 ppm, but I have not proven any problem due to copper contamination. It plates right out on the cathodes, then re-dissolves, then plates out again. you, too, can plate it out and remove it, meanwhile, do not worry about it.

Robert H Probert
Robert H Probert Technical Services

Garner, North Carolina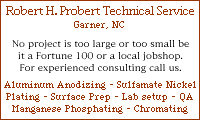 ---
Second of two simultaneous responses -- January 26, 2010

When you anodize you are dissolving aluminum from the surface as the aluminum oxide forms. As you likely know, many alloys of aluminum contain a small amount of copper up to about 5%. When the aluminum dissolves into the solution, the alloying elements also dissolve. It's just the nature of the beast. Some companies have success with ion exchange systems that can keep the dissolved metals at reasonable levels. If you find, as I have with low temperature hard anodizing, that much of the copper tends to film up on your cathodes and then flake off into fine particles in the bath rather than redissolve in the acid, you may have reasonable success with just particulate filters. Good luck.

Jon Barrows
, MSF, EHSSC
GOAD Company

Independence, Missouri
---
January 28, 2010
The reason for higher copper content as tank age is well above-explained, but it is proven too that higher content in the tank tends to have higher content in the coating which is detrimental to anti-corrosion character. We are required to keep Cu below 6 ppm.
John hu
- Singapore
---
January 31, 2010
John

Do you use copper buss bars or rack hooks that could be contributing to the problem?
Willie Alexander
- Colorado Springs, Colorado