Where the world gathers for
plating, anodizing, & finishing Q&As since 1989
-----
How to remove gold paint from antique silver pitcher?
January 16, 2010
I HAVE A VERY OLD 1890'S FANCY PIECE ( SILVER) -LOOKS LIKE A CREAMER OR A PITCHER, BUT ITS PAINTED OVER WITH GOLD PAINT. INSIDE IS SILVER AND OUTSIDE PAINTED GOLD. CAN I GET THE PAINT OFF?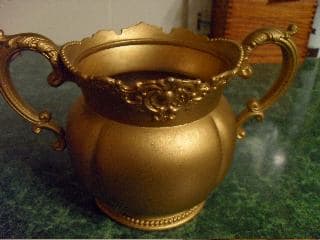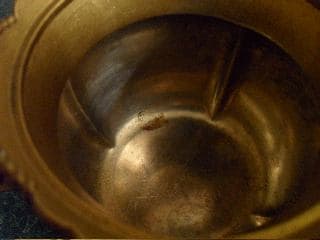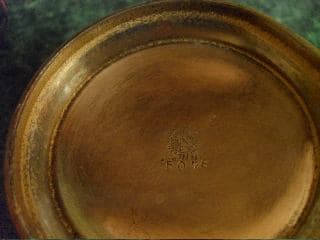 BETSY VERARDI
HOBBY - STATEN ISLAND
---
January 19, 2010
Hi, Betsy. We appreciate you taking the time to send photos, and it looks like it could simply be gold paint, but I can't share your confidence that it is gold paint simply from the picture. Are you sure it's not gold leaf, or a toxic fire-cured gold-mercury amalgam? Do you have some history on it that you haven't disclosed yet?
Do you have any reason to believe it's sterling, rather than silver plate . . . and that if you removed the "paint" that you would have good silver plating under it, rather than a worn-off mess? I'd have an antique shop look at it before messing around, but if turpentine won't remove the paint, aircraft stripper probably will. Good luck.
Regards,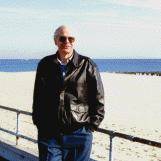 Ted Mooney
, P.E.
Striving to live Aloha
finishing.com - Pine Beach, New Jersey
---
January 20, 2010
Well Betsy that is a bit of an interesting piece you have there. It would be nice if you could have provided some hallmarks but I think I can probably make a few educated guess's on it. If you note the first photo the metal work on the top is present on the outside and not on the inside. This means 1 of two things. The ornate top was cast and later welded to the lower piece or the ornate work itself was cast and then welded to the upper part. I have seen some work like that which had been chiseled out of solid silver but that's extremely rare. If the top part of the bowl is indeed cast with the figure then it is almost certainly sterling silver. If fancy stuff is welded to the upper part of the bowl it is probably German silver or cupronickel. Much the same thing but NOT silver. The bottom part is undoubtedly spun and hammered out of whatever material the top portion is made from. As you have stated the gold patina looks like paint to me too even though the photo quality is not the best. Do as Ted suggested and or you may try lacquer thinner first. You can buy it at any hardware store and it's not quite as nasty as paint stripper. It won't gobble up your fingers and counter tops and it will remove most older paints. I don't know what your laws are like in the USA but here we have to ask the clerk for a can of it and if you happen to be a weird looking buzzard like me you may have to show picture ID. It seams that some of the more creative kids and folks that live in cardboard boxes have taken to sniffing it. Blocked sinuses I surmise.

Rod Henrickson
gunsmith - Edmonton, Alberta, Canada