topic 5431
Satin Finish on Aluminum Diecasting
(2000)
We have a few high pressure die cast aluminum furniture components which we would like to finish and end up with the same look as a satin chrome or anodized aluminum.(not easily marked by handling.) Someone suggested stainless steel ball burnishing? Is there an aluminum that we could anodize? Any other suggestions would be appreciated. We would prefer not to coat the parts.
Neville Waisbrod
furniture - New Zealand
---
(2000)
Neville ,
Apparently your interest is only needed for appearance. Steel burnishing media will not get you a satin finish. The short answer is you have 2 choices. You can anodize your aluminum as is, in which case your surface material profile will remain relatively unchanged or you can use a mass finishing process that uses dry organic media which includes abrasives. The latter media is commonly used to get an antique finish look. The media will do surface modification, will blend, and will remove burrs, depending on equipment and time cycles. If you go to the dry processing method, you will get some temporary protective coating for a little while, but you may want to coat shortly after processing to prevent stains and oxidation.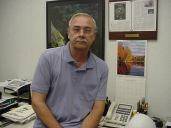 AF Kenton
Hatboro, Pennsylvania


This public forum has 60,000 threads. If you have a question in mind which seems off topic to this thread, you might prefer to Search the Site