60,000 Q&A topics -- Education, Aloha, & Fun
topic 5424
What is the Thickness of Zinc Plate from an Acid Based Plating Process?
A discussion started in 2000 but continuing through 2020
2000
Q. We currently have some parts that are manufactured from 1010 steel and are zinc plated per ASTM B633 [affil. link to spec at Techstreet] Fe/Zn 25 type II (minimum plating thickness .001"). Our current plater called to inform us that he is changing his plating bath from alkaline to acid chloride. He says with the new bath he can only plate .0002 - .0004" thick. Is this true for all acid chloride baths? Is this the current trend for zinc platers?
If it is so, we would have to consider changing our thickness requirements, but we need the corrosion resistance of the thicker zinc plate.
Eileen Clevenger
aircraft engine systems - Rockford, Illinois USA
---
2000
A. Since I don't know your part, etc., I can't be sure, but, historically, acid zinc baths suffer from low throwing power. Depending upon the part shape, this may be what is limiting your supplier.
James Totter, CEF
- Tallahassee, Florida
---
2000
A. Chloride zinc baths can plate 0.001" thicknesses. The problems with this thick of a deposit is twofold. First, chloride zinc does not have good distribution; meaning the high current density (HCD)areas will plate much faster than the low current density (LCD)areas. If your 0.001" requirement is for a LCD, then the HCDs will have a thickness of 0.003 - 0.004". Second, due to the organics in the chloride zinc formula, thick chloride zinc deposits are prone to chipping. I would suggest you find another plater in the area who does alkaline zinc plating.
Rick Painter
- Cleveland, Ohio
---
2000
A. I would like to think that your plater has a reason for moving from Alkaline to Acid Zinc, and you can plate the thickness you require with lower current, longer times and assisted by Air or Cathode agitation, without altering your spec for less thickness. We use both the systems and each has its own pros and cons.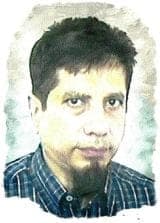 Khozem Vahaanwala
Saify Ind

Bangalore, Karnataka, India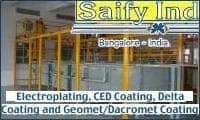 ---
---
January 8, 2020
Q. Sir we doing zinc plating for grease nipples in my process. I have a problem in thickness. Please tell me what we do to quick thickness plating.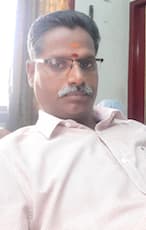 Vivek Ananthan
Industries - Chennai, Tamil nadu India
---
January 2020
A. Hi Vivek. The quick path to greater thickness is simply more plating time. Good luck.
Regards,
Ted Mooney, P.E. RET
finishing.com - Pine Beach, New Jersey
Aloha -- an idea worth spreading
---
January 9, 2020
Q. WHAT ARE THE TROUBLESHOOTING TO SOLVE LATE THICKNESS IN ACID ZINC BATH (WE ARE DOING AUTOMOBILES GREASE NIPPLES) IN BARREL PLATING?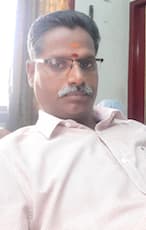 VIVEK ANANATHAN
[returning]
hitech - chennai, Tamilnadu, india
---
January 2020
A. Hi again Vivek. The plating thickness is essentially directly proportional to the amp-hours of plating. If you have not reduced the plating time, nor are you seeing lower amperage readings on the rectifier, and the load size in the plating barrels has not increased, the thickness should not have changed. If you have done any of those three things the thickness will definitely be reduced. Good luck.
Regards,
Ted Mooney, P.E. RET
finishing.com - Pine Beach, New Jersey
Aloha -- an idea worth spreading