60,000 Q&A topics -- Education, Aloha, & Fun
topic 53765
Copper sink stains and discoloration
A discussion started in 2004 but continuing through 2019
2004
Q. I and my neighbor/friend used to use a cleanser (like Comet) for cleaning our brass, stainless steel, bathroom sinks, etc. It is called Cameo. My friend and I have been looking for it for a long while and we can't find it in the Vancouver, British Columbia area. When you make a paste out of it (with a bit of water) it's a quick, and fab cleanser (especially for Copper) If anyone in this area knows where we can purchase Cameo, please let us know. Thanks,
Dianne Holowka
- North Vancouver, B.C., Canada
----
Ed. note: Cameo [affiliate link to product info on Amazon] is available from Amazon, Dianne. Barkeepers Friend [affiliate link to product info on Amazon] is probably rather similar.
---
---
2007
Q. I have a client with a hammered copper bathroom sink. I use a copper cleaner to shine it, but as soon as the water is turned on there is a blackish streak. I wondered if a clear powder coat was the proper solution to retain the shine and beauty of the copper while giving it a shield from the water. Also, is this a permanent solution or one that will have to be repeated? If it has to be repeated, then how often, under normal use?
Jo-Ann Peabody
Executive household property manager - White Lake, New York
---
2007

A. Hi Jo Anne, first off, powder coating requires baking in an oven done by a professional powder coating company; so unless the sink is removable, this is not an option. Also, potential cracking by pots and utensils would create a maintenance problem to come. Did you want to polish the sink to bright copper look? The discoloration you report is most likely due to some high chemical content in your water.

adv.
We can offer a patina process in the form of a BarrysRestoreItAll kit which can help you achieve a brown to black patina on copper and bronze.

Frequent waxing will help protect the restored surface and maintain your patina. Best




Barry Feinman




BarrysRestoreItAll





Carlsbad, California






---

2007

A. Try Everbrite [a finishing.com supporting advertiser] coating.Hope it helps and good luck!

Goran Budija




- Zagreb, Croatia




---
2007
A. I would suggest two possible answers.
Incralac is a very good clear varnish containing inhibitors to prevent copper tarnishing. There are clear electrophoretic lacquers which may be tougher but need specialist application.
I would not expect either to last very long.
However, the bottom line is that you have just discovered the hard way why there are so few copper bathroom sinks. It is a totally unsuitable material for that use. The same goes for gold plated taps (faucets ?)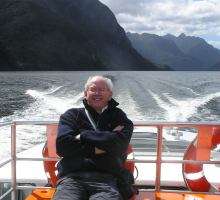 Geoff Smith
Hampshire, England
---
---
CLR Ruined my copper sink
December 1, 2009
Q. I noticed the problem of using CLR on copper and just wanted to say that I used CLR on my new bathroom sink while cleaning, and it ruined the ring around the stopper by eating into the chrome finish around the stopper. I ran water in the sink but it still caused the solution to form around the ring and eat away the chrome finish around the stopper.
How can I fix this problem without removing the ring around the stopper? It is sad when this product can destroy the metal in a sink and yet is completely safe for plastic as the stopper was unmarred. Because of this damage, I am afraid to use CLR on anything. I hate CLR! It is not consumer friendly! The warning is not to use it on metallic glazed surfaces but when almost all sinks and bathtubs have these metallic glazed surfaces in sinks around the stoppers, how can they recommend it as safe to use on cleaning any sinks or bathtubs! Who can I write to to complain about this potentially destructive product?

Signed, disappointed in CLR
Navona McMahan
home owner - Woodlake, California
---
December 3, 2009
A. There is no way to properly fix the chrome ring except to have it plated. You could have a new one installed cheaper than electroplated. If a product claims it will remove calcium, lime and rust you would think the mfg would know it is going to come in contact with chrome plated drain hardware, whether it be in sinks or tubs. Did you let the CLR sit for a extended time in the sink before rinsing away? Nevertheless, I would write the company and tell them their product ruined your sink. Take pictures to send along with the letter. They may send you a check for the damage if you persist enough. Good Luck.
Mark Baker
Fellow Plater - Syracuse, New York, USA
---
---
Acetone damaged the finish on copper sink
December 8, 2010
Q. I spilled acetone (nail polish remover) in the metal sink in our bathroom. This is a coppery colored sink not stainless steel. Within a few minutes the finish was damaged, leaving washed out light streaks. Is there anything I can do?
Joli Hohenstein
Home owner - Decatur, Illinois
---
December 10, 2010
A. The sink probably had a clear coat on it that the acetone attacked.
James Watts
- Navarre, Florida
---
December 13, 2010

Is there anything I can do?

Joli Hohenstein




- Decatur, Illinois





---

December 13, 2010

No... as James has explained, the Acetone has acted as a partial paint stripper causing irreparable damage to the coating that is protecting the copper.

Terry Hickling




Birmingham, United Kingdom




---
December 14, 2010

The damage *might* be superficial. Try polishing the surface with very fine, 000 or 0000 steel wool [affil. link to Rockler] used with water and a few drops of detergent. You'll have to do the entire surface to blend it all in. Go gently and stop when it looks "good enough".

The only other fix would be to remove the sink, strip all the clear coat with paint remover, re-polish the copper and apply new clear coat. There aren't any consumer-available clear coats which will stand up, but an auto paint shop will have clear coats which will last fairly well.




Jeffrey Holmes, CEF




Spartanburg, South Carolina





---

December 14, 2010

Two choices; try to respray the whole zinc with a bright or medium bright copper paint spray can, or give up and replace the entire sink.
It would not be cost effective, but you could remove the sink, strip the entire sink and then find a commercial shop that can respray it with tinted lacquer.

I would talk to the folks that made the sink to see what their ideas might be.

James Watts




- Navarre, Florida




---
December 18, 2010
A. I feel a need to correct the suggestions offering an explanation re: clear coat. Why do we assume there is a clear coat over the copper as only one manuf has a clear powder coat over theirs while all others offer raw copper (maybe waxed) product. Besides, the writer doesn't say anything about a 'white film' which would be result of acetone damage of clear coat. What we have here is damage to patina or wax coating.
adv.
BarrysRestoreItAll offers a Copper Patina Repair kit and proprietary waxes. Hope this gives hope to you. The finish is delicate but fixable.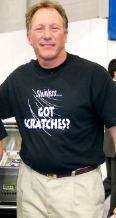 Barry Feinman
BarrysRestoreItAll

Carlsbad, California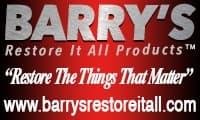 ---
---
March 20, 2017
-- this entry appended to this thread by editor in lieu of spawning a duplicative thread
Q. I cleaned an antiqued brass sink with a mixture of salt, vinegar and flour. It is now clean and shiny. Since it is a sink that is used, what is the best way to get the antique look back and what needs to go on it to protect it from future stains. Also, what is the best product to use for routine cleaning?
Sharon Nivens
- Kings Mountain, North Carolina USA
---
---
October 6, 2017
-- this entry appended to this thread by editor in lieu of spawning a duplicative thread
Q. We have updated our new/old home and have installed a copper bathroom sink which has turned black. There is no amount of work that will keep it looking like new and wondered if there is a product that I can use to keep the sink looking like new.

Thanks for your advice.
Jane Whitmore
restorer - Delaware, Ohio
---
---
Plumbers Putty Ruined Finish on Copper Sink
December 19, 2017
Q. Just installed this new copper sink. When installing the faucet, the plumbers putty removed the finish of the copper.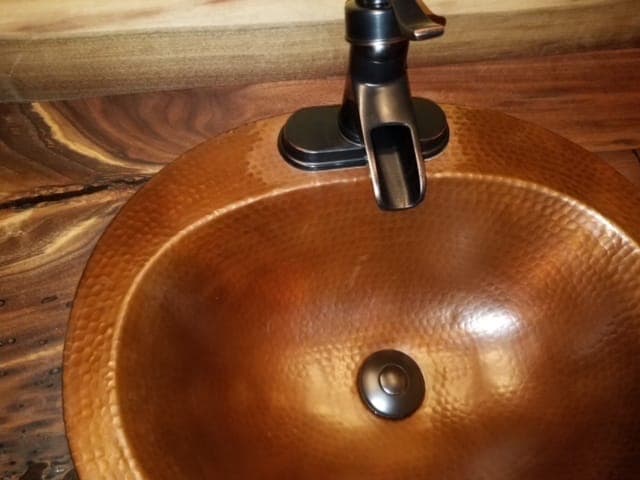 Any suggestions to repair? I know copper will have areas of dark and light, but I just don't want an eternal ring around the faucet!
Karlovec Jennifer
- Medina, Ohio
---
---
August 1, 2019
Q. My husband just installed a new copper sink in bathroom. In order to weight it down after it was installed to get the glue to set, he used some plastic weights, the small kind that you use for weight lifting. The weights left marks where they sat. Is there anyway to get the marks out? Thank you.
Allyn Stoller
- albion, Indiana, United States
finishing.com is possible thanks to our supporting advertisers, including this one: