topic 53685
Looking for durable, chlorine-resistant steel coating
November 23, 2009
Hi, I am an engineer working at an NGO in Western Kenya. We are building and disseminating chlorine dispensers for use at water collection sources, for drinking water purification. The dispensers are made out of steel and currently coated with a corrosion-resistant primer and two coats of 'metallic vehicle paint.' On the inside of the cylinder that holds the chlorine tank, we have also tried chlorinated rubber paint with a zinc primer. We are exploring powder coating, but the quality so far has not been adequate. We are looking for a coating option that is ideally somewhat locally available (i.e., within Kenya) and also not extremely expensive, as the more affordable the dispensers are, the more communities they can reach. We are currently producing small quantities of stands at a time (on the order of 5-10/week), but expect this to increase as we scale up operations. Other coating options we are looking at include epoxy coatings, but I do not know much about this. I have also seen mention of 'clearcoat' paint. We are hoping to have the dispensers last at least 5 years, but longer is preferable.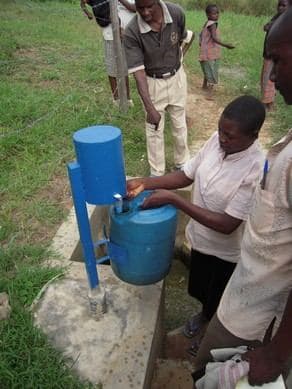 In addition to very durable coating for the entire dispenser stand, we are also looking for additional coating for the bottom of the stand, where chlorine (1.25% solution) sometimes splashes. A concrete collar surrounding the bottom was suggested, but my research suggests that concrete can actually make the problem worse. I have read that calcium nitrate can be added to concrete to increase corrosion resistance, but it is unclear if this would be easy to find locally.

Any advice would be hugely appreciated, as this is a big issue that we would like to solve as soon as possible. Thank you!
Rebecca Smith
Engineer - Busia, Kenya
---
November 24, 2009
Thanks for posting my question! I just wanted to clarify what I'm looking for... we would like to find a scratch- and rust/corrosion-resistant coating for our steel stand [not stainless, not galvanized] that will last for many years. The coating product/service should be available in Nairobi if not closer.

I have been wondering if some of our current problems could be due to unsatisfactory cleaning before applying the paint or other coating. It seems like this is an extremely important step. What should we be doing to clean the stand before coating?

Thanks again!
Rebecca Smith
- Busia, Kenya


This public forum has 60,000 threads. If you have a question in mind which seems off topic to this thread, you might prefer to Search the Site