Live! From beautiful Pine Beach New Jersey: Welcome to the world's most popular metal finishing website
topic 53532
How to eliminate Black marks in zinc plating
A discussion started in 2009 but continuing through 2018
November 3, 2009
Q. Hi,

We are a leading electroplating job work provider on Zinc plating.

We have a regular problem of "blackmark" on zinc + trivalent yellow passivation.
What steps has to be taken care to avoid occurrence of black mark on plated surface.

Please suggest your valuable points.

Regards,

Jayakumar Selvaraj
metal finisher - Chennai, Tamilnadu, India
---
November 5, 2009
A. Hi, Selvaraj. Please tell us whether you are barrel plating or rack plating --
If you are rack plating, the black marks may be rack marks. If you are acid zinc barrel plating, the marks could be iron spots. Please try to tell us your basic process info; and, if you can, please send a photo of the black marks to for posting here. Thanks!
Regards,
Ted Mooney, P.E.
finishing.com
Pine Beach, New Jersey
---
---
September 11, 2012
Q. Hi all experts,

I'm facing problem with black jig mark on the plating parts after the acid zinc process.
Check picture below please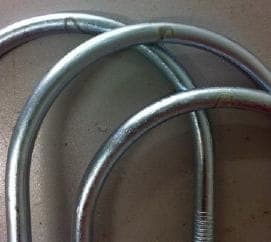 Please advise and deeply appreciate !
Lovely thanks
Tim Sng
- Penang, Malaysia
---
September 12, 2012
A. Tim,

I am guessing that these parts are U-Bolts, but not 100% sure because the picture does not show the whole part. It looks like the parts have a very loose contact, causing the large black marks. Any rack option will leave a mark, but a better racking configuration where the part was held in place by tension would certainly reduce the amount of marking on the surface. If they are small enough, I would recommend barrel plating these parts. I have plated U-Bolts up to 4" or 5" diameter in a cylinder without much problem.

Regards,
Kris DeBisschop, CEF
- Bridgeport, Connecticut, USA
---
February 3, 2013
A. A. Dear Mr.Tim Sng;

Have Good day;

As from the pic; I could see the jig marks,

1. Reduce the current.
2. If it is manual line put an empty jig on the both corners of the cathode bar.
3. If it is auto line, give cathode movement.
4. If it is alkaline; if you find cathode movement is slightly difficult, give slight air agitation.

Give air agitation for alkaline not for acid.

BEST REGARDS
M.DEEPAN
M.Deepan
- Chennai, India
---
February 6, 2013
A. Good day Tim.

I too am guessing about the black marks.These marks are presumably LCD areas as rack contacts. I would run a hull cell panel and check LCD area, to see how far the bath throws.
Quite possible the brighteners are unbalanced, as excess main,secondary, or insufficient carrier (which will give better throw). Also, check for organics= carbon treat a lab sample with 10 g/l ACTIVATED carbon, filter and run a panel.Carbon will remove 80-100% carrier, 30-50% secondary brightener, 5-10% main brightener, and 100% wetter.
Iron also likes to show in LCD areas.
Since your letter was dated Sept. '12, I am curious as to the outcome of your situation.
Hope this helps.
Regards,

Eric Bogner
- Toronto, Ontario, Canada
---
Rack marks on alkaline zinc bath / Pre-cleaning hot rolled steel
April 5, 2018
Q. Hello,

I am in a alkaline zinc playing shop. We have normally run only cold rolled steel but have taken on some outsourced work. We are starting having difficulties cleaning the new material and it's lead to direct dark racks marks afterwards. My questions are as follows:

1) is there a better process of cleaning hot rolled vs cold rolled steel? We have typically ran it through our cleaning process twice to help improve the cleanliness.

2) does hot rolled steel contain more impurities that will effect our plating tank if they make it to the bath before sufficient cleaning?

Thanks
Steven Hubbard
Plating manager - United States


If you have a question in mind which seems off topic, please Search the Site