Serious Education ... plus the most fun you can have in metal finishing.
I used Tarn-X on my sink and the patina is ruined!
November 3, 2009
First of all, how do I tell if this sink is brass or copper? When I used the Tarn-X it looks like a shiny copper underneath. I want to restore the patina that I took off. It is blotchy now. I also have green spots on the handles. Any suggestions? HELP! I am having about 60 ladies over this weekend!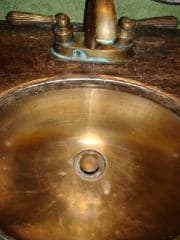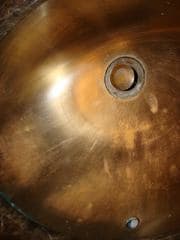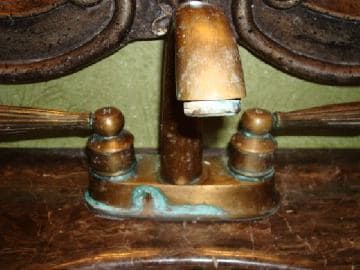 Lori Darlington
- Lake Barrington, Illinois
---
November 22, 2009
Hi Lori, corrosive cleaners like TarnX will quickly strip the patina from copper sinks like yours and the acid will result in the cupric oxide (green corrosion similar to when pennies are left in water). You first need to strip the entire surface with an abrasive material or pad then apply a chemical patina to restore the brown/black appearance it once had. Restore It Yourself, Inc, the makers of Scratch-B-Gone has a DIY Copper Patina Repair kit just for this issue. You will be surprised at how many people have this problem so your not alone. Care must be taken in cleaning this finish as it is delicate and highly reactive to traditional clears. Waxing your basin will greatly help protect the finish. We have this also. Good luck and have a wonderful Thanksgiving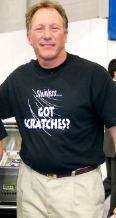 Barry Feinman
Restore It Yourself, Inc
Carlsbad, California