topic 5328
Burr Removal After Slot Milling
2000
We are producing Rotors for Vane Pump kits. When the slots are milled, big, twisted burrs remain on the rotor's face, where the saw leaves the work. The slots are cut before heat treatment. For the moment we use oil stones for the deburring. Could you, please, recommend another more effective and quicker method? The material is 'Alloy Steel, Reduced Nickel, 0.20% Carbon'. Regards,
Despina Rantitsa
- Havant, Hampshire, UK
---
2000
Despina I have to assume a couple things about your part and volume to answer this question. It sounds as if your part is bigger than 12 inches or mm if you are currently using hand stones to deburr. That means that your parts probably weigh at least a pound a piece. Parts of this size can be done in mass finishing equipment, but it must be fairly large to accommodate a number of pieces to make it profitable or cost effective. Another choice is a combustible heat system that will effect only the burr. I am leaning toward a heavy viscous deburring Extrudehone system if you can afford it, because it actually duplicates the environment that the part will be working in. Part size and volume are necessary to answer this question properly.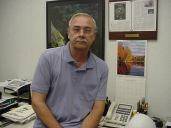 AF Kenton
Hatboro, Pennsylvania
---
2000
A foundry that I did some work for used sanding belts. Loop was about 4 feet long, so belt was about 8 feet total length. You might set up with two or even three different grits. It was fast. Their analysis was that it was faster and cheaper than using a mill or lathe on it. Some were fairly sporty protrusions from the spew hole. This is not a terribly expensive initial set up, is fast and is not critical like chemicals are. Employee needs only good hand eye coordination, i.e., an min wage job.
James Watts
- Navarre, Florida
---
November 12, 2008
Rotors for pump vanes are a fairly typical part for consideration of a brush deburring type system. The volume of parts you do would be important as it typically takes about $40,000-70,000 to purchase this type machine. If your budget is not set for this amount there are several tool attachments that could possibly be used more effectively than the stone. I would recommend finding someone capable of running some test for you. The location of the burr and classification of the burr is also very important to determine best burr removal process. Simple mass finishing may satisfy the requirement if the burr is accessible and light.
Mark Cantwell
- Huntingdon Valley, Pennsylvania, USA


This public forum has 60,000 threads. If you have a question in mind which seems off topic to this thread, you might prefer to Search the Site