Where the world gathers for
plating, anodizing, & finishing Q&As since 1989
-----
Alkaline Zinc Plating Rundown Streaking

Q. I have experienced this in finished products in an alkaline zinc line, across the entire part.

While my cause doesn't appear to be related to previous posters here which appears to be being caused pre or during plate, my issue was being caused post-plate.

If parts are left to sit in a rinse tank after the plating tank without first properly rinsing, the sodium hydroxide appears to slowly rinse itself downwards causing the vertical streaks in finished products

Often I may have three racks of parts to finish and I used to let them dwell in the 1st rinse tank while I finish and chromate and dry each set of jobs separately. Too long however appears to cause streaks so instead I rinse first, run them through the nitric tank and then sit them inside the post nitric rinse tank.
Boris Siljanoski
- Perth, Western Australia
April 19, 2022
A. Boris ,
The streaking down stain, try to add in alkaline zinc tank purifier, conditioner and wetter. if you have oil in bath it worsens the run down streaking stain problem. Run Hull Cell panel to if you can duplicate the problem.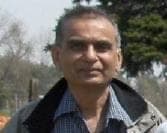 Popatbhai B. Patel
electroplating consultant - Roseville, Michigan
Q. Good day Popatbhai
I have a newly made bath at the moment. 10g/l Zn NaOH 102g/l. Hull cell shows dark gray streaking that appears to clear out with extended dip in the nitric.

Brightener is on the lower end of the spec (1.5%), spec is 1.5-2%. Adding more brightener in hull cell doesn't appear to help.

As the black streaks tend to go away in Nitric dip, it would mean it's not a containment as contaminants generally don't go away in the Nitric dip.

Running 1A - 5 Minute tests.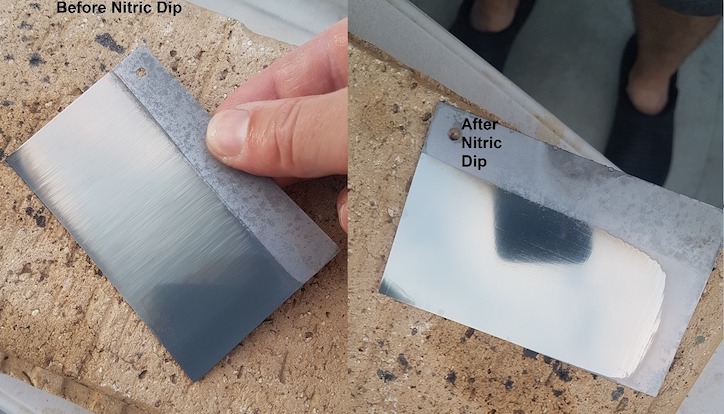 Boris Siljanoski
- Western Australia
February 5, 2023



---
---
↓ Closely related postings, oldest first ↓
---
---
Q. We have two 2100 gallon alkali zinc plating tanks that have been on line for 1 1/2 years. We have had to dump a portion of both tanks (1/2 tank at a time) due to a run-down streaking problem on the parts. We have experimented with different variations of running the parts with no success. After dumping the tanks and making them back up the problem has gone away. Our chemical supplier claims they have never seen this type of problem and has offered no solution to the problem, other than dumping the solution. We were wondering if this problem could be related to a break-down of the brightener system? We have tried carbon treatment, along with hydrogen peroxide with no success. We are considering switching to another chemical supplier, but are not sure if this will cure the problem. Has anyone ever encountered this type of problem, and is there a way to treat the solution other than dumping the solution?
Ken Robertson
- Boston, Massachusetts USA
2000
A. Are you getting any contaminants carried in on the parts? It works fine after a 1/2 dump and then increases so it sounds like either the brightener breakdown is excessive or the drag in of contaminants is excessive. If the brightener breakdown is excessive is it from plating outside the proper current density window or something mechanical like poor connections or improper temperature. If it is a drag in problem(which the final rinse before the zinc may show) is it metallic or organic. If you chromate after zinc can some of the chrome be ending up in the zinc somehow. Are the cleaners taking off all of the surface contaminants or leaving trace amounts on and ending up in the zinc. Your best friend ally may be a 267ml hull cell since I sure wouldn't want to use a 2100 gallon one!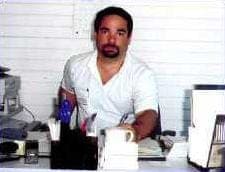 Jim Conner
Anoplex Software

Mabank, Texas USA

A. Ken,
Jim Conner hit on the correct troubleshooting, use a Hull Cell. Eliminate the plating bath chemistry as the problem or solve it if the "streaking" shows up on the Hull Cell. A couple of questions: You are using a caustic pre-dip for the parts prior to entering the plating tank, right? If so, how often is it changed? Should be once per week minimum. Is the streaking from an area of the part where two items are pressed together in the assembly? Is it bleed out? Entrapped cleaner/acid in this area will bleed out in the plating stage, as it is the longest time in any tank. Hope this helps.
Bill Hemp
tech svc. w/ chemical supplier - Grand Rapids, Michigan
A. Dear Mr Ken,
We have been using alkaline Zinc and we have a problem of vertical black lines in the LCD areas particularly. This is generally resolved by adding more NaOH to the bath than what is recommended . Is this what you mean by run down streaking ?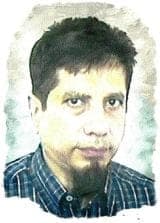 Khozem Vahaanwala
Saify Ind

Bengaluru, Karnataka, India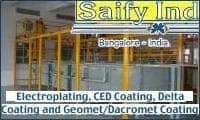 A. Without actually seeing the fault it's difficult to come up with a solution to your problem.
We had a fault in the mid cd of an alkali zinc solution which showed up as white vertical lines on the hull cell panel and our chemical company recommended a 25% dilution to cure it.This I found unacceptable and refused to do.
We finally cured the fault by adding up to 5g/l Rochelle salts (Sodium Potassium Tartrate). It could be a build up of calcium in the solution from the top up water.
Dougie Lightfoot
- Fife, Scotland
A. Ken,
There are 2 different kinds of runs; The run down as you have described which could be flash rusting and the run up which could be gassing streaks. Assuming it is the run down flash rusting prior to the zinc could be leaving what appears to be a streak that runs down. I that case you would not see this on a Hull Cell. A caustic pre-dip at 10 opg changed weekly would cure this if this is the case. When you dilute your bath you are making 1/2 of a new bath, which cuts the contaminants in half, but also refreshes the bath, giving it for a period of time the appearance that it worked in which case the added brightener will mask this for awhile and then eventually reappear. Start with the simple fixes first.
Ken Hutchinson
- Minneapolis, Minnesota, USA