Where the world has
gathered for finishing Q&As since 1989
Current drop during anodizing

-----
)
Current postings:
April 3, 2022
Q. I am facing drop in the current at the beginning of the round after 5 min... the current density rising very high and then drops to zero.
Shaymaa ahmed
- Cairo/ egypt
---
April 2022
A. Hi Shaymaa. There are a number of possibilities, but firstly why are you letting the current density rise "very high"? You're not supposed to; you're supposed to anodize by current with the current density limited. How high is very high? You might be destroying the parts before you're even started :-(
What are the racks made of, and how are the parts secured to the racks? If you're using aluminum racks and the parts wiggle, the hooks will anodize and no current will get to the part.
Readers will only to be able to help you in proportion to the information you give them.
Luck & Regards,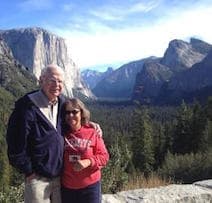 Ted Mooney
, P.E. RET
Striving to live Aloha
finishing.com - Pine Beach, New Jersey
---
April 4, 2022
Q. I am not rising the current I am using a constant voltage... I am just asking why it rise that high and drops suddenly? The racks is aluminium coated with plastisol and the clamps from titanium.
Shaymaa ahmed
[returning]
- Cairo/ egypt
---
April 2022
A. Hi again Shaymaa. Fresh, bare aluminum parts are very highly conductive. If you place them into an anodizing tank at say 12 volts, very high current will result and the parts will start acquiring an anodized surface. That anodized surface is non-conductive, so much less current will soon flow. As the anodizing thickness builds, eventually the parts become so non-conductive that the thickness will grow no further at that voltage.
That is why the simpler and better way to anodize is by current: determine the surface area, and what current density you want to use, and set your rectifier to constantly deliver that much current. It is also likely that if you apply 12 volts to fresh bare aluminum the initial deposit will be 'burned' instead of being a proper anodized layer. If you must anodize by voltage, you must start with a very low voltage and very gradually (over the course of 2-5 minutes) raise it to the full anodizing voltage. Some rectifiers have 'anodizing ramp control' to do this for you.
Luck & Regards,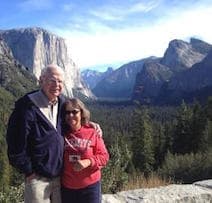 Ted Mooney
, P.E. RET
Striving to live Aloha
finishing.com - Pine Beach, New Jersey
---
April 7, 2022
A. Your description indicates severe burning of parts. Check how tight the parts are on the rack by tapping on the floor or hard surface, If parts fall off your connection is in adequate.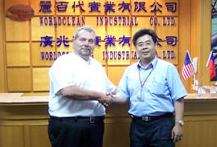 Drew Nosti, CEF
Anodize USA

Ladson, South Carolina

---
---
August 5, 2022
Q. I happened to encounter similar situation, however, when I racked the item, the current won't go up to desired current level. I need around 80A (using 1,5A/dm2) however I'm stuck at 20A. I checked my bath level, it has around 18% wt sulfuric acid.

Do you have any suggestion?
iwantiono tiono
- Jakarta/Indonesia
---
A. Hi Iwantiono. Although your concentration is too high, it's probably doesn't account for this problem.

Sorry, but I don't understand what you mean by "stuck at 20A". What is the voltage? What is the evidence that everything else is working as it is supposed to? I don't want to harass you but we have very little data ...

Is this a long-established anodizing plant that stopped working, or a brand new installation and you are trying to anodize your first part? What alloy? What racking material (if aluminum, are you sure it's properly stripped)? Are you sure the bus bar and racks are able to handle 80A? Are you sure the rectifier is working properly? What is the anodizing thickness on these parts that only draw 20A instead of 80A? On the road to successful anodizing, being able to get the required power to the parts is a pretty elementary first step :-)
Luck & Regards,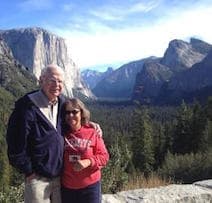 Ted Mooney
, P.E. RET
Striving to live Aloha
finishing.com - Pine Beach, New Jersey
---
---
---
Closely related Q&A's, oldest first:
August 30, 2009
Q. I have an anodizing shop in the Netherlands. The company exists for about 20 years now. My question is: when anodizing, constant voltage, we sometimes experience a drop in current. This happens when we have many aluminium parts on titanium racks. This results in burning points on the aluminium parts and/or a decrease in thickness.

I'm almost certain the problem is too much surface on too little titanium rack surface. But even when I use V-shaped aluminium bars below and titanium racks to hold down the parts, I get this problem. I've read about cleaning the titanium racks in sulfuric acid, our anodizing bath, overnight.

Are there other solutions too anodize the aluminium parts, while using titanium racks? Maybe different ramping voltages or pre-treatments?
Harry Goossens
owner of an anodizing shop - Netherlands
---
September 2, 2009
A. You can "anodize by voltage" up to about 0.0008 inch during which time the voltage will only drop about 1/2 volt (depending on you free acid content and temperature), beyond that the resistance of the coating requires continual increasing voltage to HOLD THE CURRENT DENSITY CONSTANT. So, how thick are you anodizing?

Robert H Probert
Robert H Probert Technical Services

Garner, North Carolina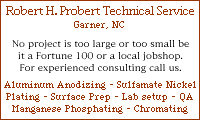 ---
September 23, 2009
Q. The layer thickness is 20 micron. The decrease in current is known but as you say, only about 0,5 Volt is normally necessary to increase if you want to hold down the current.

But our drop happens, for example, after 25 minutes. The titanium racks are used frequently for other, less surface, products.
Harry Goossens
[returning]
- Netherlands
---
September 23, 2009
A. Then I would assume that for your conditions of free acid concentration, temperature, agitation and dissolved aluminum you are reaching 20 microns (0,0008 inch) in 25 minutes, then you need increased voltage to hold the current, since you are in the constant current mode the voltage does not climb so the current falls off.

Robert H Probert
Robert H Probert Technical Services

Garner, North Carolina