topic 52957
Etching Stainless Steel for Metallography
A discussion started in 2002 but continuing through 2017
(2002)
Q. Does anybody have a usable recipe for etching stainless steel that can be carried out in a College environment? The welding & Fabrication department want to do some work on etching stainless steel with an evening class.
They've brought me a book, dating from the early 60's, that has a recipe in it, I'm just wondering if it's still relevant.
The recipe is:
- 15 cc hydrochloric acid,
- 5 cc nitric acid and
- 100 cc water and it says that it's ... - to be used cold.
I'm assuming that it's concentrated acids and know that I have to add acid to water and not the other way around. Before I start, is this the best solution to use?
Many thanks for any help offered.
Regards,
Cheryl Wilkinson
Cambridge Regional College - Cambridge, United Kingdom
---
(2002)
A. I think the formula is probably okay, Cheryl; what concerns me is the operating environment. In more than one factory the workers have been sent scurrying away from the toxic NOx fumes when non-stainless parts were accidentally put into the etch processes designed for stainless steel. Hopefully you're describing a situation involving small beakers kept under lab hoods, with your work closely supervised if you haven't been trained in lab methods.
Letter 10759 discusses Marble's Reagent, which may be applicable.
Another important issue is what do you mean by "etching"? To some readers, etching means bringing out the grain structure of a sample for metallography work. Are you looking to bring out the grain structure in your weld areas?
To other people, etching means photo engraving, to others it means cutting into or through through a metal part as a fabrication operation, competitive to shearing, stamping, engraving, laser marking, water jet cutting. What you are trying to do? Thanks!
Ted Mooney, P.E.
finishing.com
Pine Beach, New Jersey
---
August 20, 2008
A. The recipe you've given is essentially dilute "aqua regia". There's a bit of info on wiki about it.

In my university research, we have been using an etchant of:
- hydrochloric acid,
- nitric acid and
- water in equal parts.
It should be applied to a cleaned and polished surface, dabbed on with cotton wool for a few seconds, then washed off with ethanol and water. For type 1.4301 stainless steel (AISI 304) it does an excellent job of showing the martensite under an optical microscope. Less so is the exposure of some of the grain boundaries, and it is useless under secondary electron (SE) scanning electron microscope (SEM).

Hope this is useful.
James Ramsden
- Bath, UK
---
---
To minimize your searching efforts and to offer multiple viewpoints, we've combined some threads into the dialog you're viewing. Please forgive any resultant repetition or failures of chronological order.
---
---
August 26, 2009
Q. Hi, I am junior research fellow at Pandit Deendayal Petroleum University, Gandhianagr. I am doing my project on Activated flux TIG welding on 316Ti Stainless Steel. So would you suggest the ethcing procedure & name of etching solution to etch the weld bead, so we can measure Depth of penetration As well as weld width And Heat affected Zone also?

Thank you.
Purav Vaidya
Junior research fellow - Gandhinagar
---
August 31, 2009
Hi Purav,

This is a metallography question - I suggest you go to www.metallography.com/experts/forum.html#post and post your question or search the archives at that site.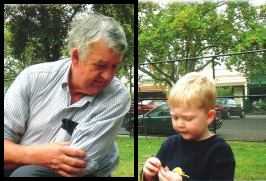 Bill Reynolds
consultant metallurgist
Ballarat, Victoria, Australia
We sadly relate the news that Bill passed away on Jan. 29, 2010.
---
September 3, 2009
Try www.kaker.com website-there you can find metal etchants database .Hope it helps and good luck!
Goran Budija
- Zagreb,Croatia
---
September 2, 2009

While Bill and Goran's responses are very helpful, and we thank them, if we just post links and no content, we're not contributing much; and if the links break, which most times they do, we're only getting in the way of a solution :-(
We're okay with posting the links, but hope that a reader will also offer at least a little technical info in reply to the question. Thanks.
Ted Mooney, P.E.
finishing.com
Pine Beach, New Jersey
---
---
March 25, 2014
Q. Hi every one!
I want to etch (metallographic) a material of stainless steel for understanding the microstructure and its properties. I tried etching with 4% nital, picral and a solution of aqua regia as well. Nothing has worked till now. The metal surface looks smooth (mirror like) even after etching. While trying with aqua regia, toxic fumes were coming out from the solution. Please help me.Thanks in advance!
Amina khatoon
- Pune Maharashtra, India.
---
April 2, 2014
A. Amina,
Back when I was doing my metallurgy degree, the lab at the university had a book full of etchant formulations and what metals each one was best for. When I see questions like this I wish I still had it handy.

If memory serves, ferric chloride is one of the more common etchants for steel and stainless steel.

Ray Kremer
Stellar Solutions, Inc.
McHenry, Illinois
---
April 3, 2014

Thanks a lot Ray Kremer. It's working.
This site is really very helpful. A special thanks to Mr. Ted Mooney for his prompt handling of request :)
Amina Khatoon
- Pune, Maharashtra India
---
---
August 27, 2017
-- this entry appended to this thread by editor in lieu of spawning a duplicative thread
Q. Hi, I'm a master student in mechanical engineering. Currently I'm working with Stainless steel 316. Can anyone suggest an etchant that suitable for Stainless steel metallography?

Thank you.
Sabree Basit
- Batu Pahat, Johore, Malaysia


This public forum has 60,000 threads. If you have a question in mind which seems off topic to this thread, you might prefer to Search the Site