Live! From beautiful Pine Beach New Jersey: Welcome to the world's most popular metal finishing website
topic 52694
Yellowing patch on sterling silver?
A discussion started in 2009 but continuing through 2018
July 22, 2009
Q. What would cause a specific area on the piece to turn yellow?- not the whole piece but 1/2?
it's not full fledge tarnished and can't be polished out.
Would it have anything to do with the paper it has been placed on?
Any help or experiences would be much appreciated.
Lina Dangelo
consumer - West Warwick, Rhode Island, USA
---
July 27, 2009
A. Sterling Silver is actually 92% silver (in the USA) and down to as low as 80% in Europe. Neither is quite as white as 100% silver, so some sterling is overplated with a thin layer of 100% silver to make it really white. You may have polished through this whiter layer, revealing a yellowish color of the base Sterling. This is most common on European Sterling.

If so, the only remedy is replating.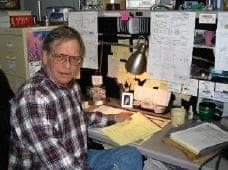 Jeffrey Holmes, CEF
Spartanburg, South Carolina
---
July 29, 2009
A. My bet is that the silver plate was thin and you have worn or polished the silver off and the yellow that you are seeing is the nickel underplate.
James Watts
- Navarre, Florida
---
A. Hi Lina. Either Jeffrey or James might be correct. However, this is what silverplate looks like when the plating has worn through (inside the bowl of the spoon) and the underlying "nickel-silver" (which actually contains no silver) is showing through ...

If that's what it looks like, and it has a metallic taste when you put your tongue on the discolored area, I'd be concerned about whether it was really Sterling rather than silverplate. Who said it is? Is it marked sterling? Good luck with it.
Regards,
Ted Mooney, P.E.
finishing.com
Pine Beach, New Jersey
Striving to live "Aloha"
---
---
Leaving sterling silver unpolished
March 15, 2018
Q. Hello. I have an option to buy a pair of sterling silver rings in an unfinished state to save 100 euros. I.e., finishing will cost 100 euros. My question is, what will happen to the silver if I never finish and polish the rings? They are 925/000, without doubt. Must I finish and polish? I actually do not mind the dull grey appearance.

Many thanks!
Bryan Nowak
- Lowell, Michigan USA
---
March 2018
A. Hi Bryan. As far as I know there is no stability problem to just leaving it be.
Regards,
Ted Mooney, P.E. RET
finishing.com
Pine Beach, New Jersey
Striving to live "Aloha"


If you have a question in mind which seems off topic, please Search the Site