Where the world gathers for
plating, anodizing, & finishing Q&As since 1989
Iridite 14-2 pH Control & Maintenance

-----
)
Tutorial:
(to provide context, hopefully helping readers more quickly understand the Q&A's)
Iridite is a trade name for one major vendor's line of chemistry for MIL-DTL-5541 chromate conversion coating of aluminum. Alodine is another major vendor's trade name. The process is also sometimes called "chem film", especially in the USA.
Q. Hello,
Does anyone have any experience using Iridite 14-2 for their yellow chem film baths? We have recently started using it and are having a lot of trouble maintaining the pH of the solution. The TDS recommends using 42 Be Nitric Acid to lower the pH, but even after multiple additions, the pH will not stay down in the specified range. If anyone has had a similar experience and has any advice, that would be greatly appreciated. Thanks!
Zander Naes
- Denver CO
July 12, 2022
[ed. note: sorry, not posted 'til Sept. 17]
---
---
---
Closely related historical posts, oldest first ...
"Surface Treatment & Finishing of Aluminium and Its Alloys"
Wernick, Pinner & Sheasby
from Abe Books
or

Affiliate Link
(your purchases make finishing.com possible)
July 19, 2009
Q. TRYING TO GET A HIGHER pH IN THE BATH, I POURED SOME 50% CAUSTIC SODA UNIFORMLY AROUND THE TANK WITH AGITATION ON IT,THE pH AT BEGINNING WAS 1.49 AND I DESIRE A 1.8 AND I DID GET 1.8 pH BUT THE IRIDITE DOES NOT ATTACH TO ALUMINUM ANYMORE. I'M DESPERATE FOR A SOLUTION BEFORE I DUMP THIS SOLUTION. IF AN ALUMINUM RACK INTO IRIDITE 14-2 TANK IS TOUCHING STEEL/304 CAN BE CAUSING THIS PROBLEM?
ELVIS INDARTE
CHEMIST/PLATER/ANODIZER - PATERSON, New Jersey, USA
---
July 23, 2009

A. Mega too strong a hydroxide to raise the pH because it will precipitate some of the chrome out and it takes forever to come back into solution. I suspect that it adversely affects some of the proprietary stuff in the solution also.

Why did you want to raise the pH that much?

James Watts




- Navarre, Florida






---

July 23, 2009

A. I do not care what the supplier data sheet says, raise the pH with ammonium hydroxide NOT caustic! I suspect your pH measurement is not accurate, that low range is difficult, especially with single jointed probes. Dip out 5 gallons, raise and lower the pH in "apparent" increments of 0.3 until you find the right pH for your particular temperature and concentration. And be sure the deox is working.




Robert H Probert




Robert H Probert Technical Services





Garner, North Carolina





---
A. I know this is a bit of an old thread but I have a couple things to add.
First, Robert is dead on the money about the NaOH being a less than ideal pH adjuster. There's already sodium in the tank in the form of sodium silicofluoride, but that doesn't mean that it can take a whole bunch more without throwing the chemistry out of whack.

If you are running Iridite you will ABSOLUTELY need to have a bottle of pH 1.0 buffer solution to check your accuracy. Calibrate your meter as usual with the two-point 7 & 4 buffers, then rinse the probe well and stick it in a small beaker of 1.0 buffer. If you can find 2.0 buffer, that will also work for this application. Give it some time to equilibrate. When the reading stabilizes, record the value. If your meter is anything like mine, it will not hit 1.0 on a two point calibration. So if your Buffer 1 reading is 1.2, apply a correction factor of 0.2 to your tank reading.

Another thing to note is that the correct pH of the solution is (according to the manufacturer) concentration dependent. So at 0.75 oz/gal the given target is 1.75. At 1 it is 1.6. At 1.25 it is 1.45. Do a titration to find your true concentration before you set the pH. Now, this is information directly from the tech sheet. I have had a consultant suggest a target of .85 oz/gal and pH 1.85, fresh from stock, without the addition of any old tank 'heel' or copper or chloride, just a little scrap aluminum to pre-condition the bath. At that combination the coverage and color is excellent. That was run as a bucket test which is a great way to evaluate your mix without committing to a whole tank.

Your stainless tank is not causing you any issues. Stainless steel tanks are fine for this material. There's ferrocyanide in the formulation. That being said, our tank has been in use over a decade and rather than pitting/etching into the metal, the solution tends to adhere and scale up on it. You'll see greenish residue which is reduced chromium and possibly some copper. The rack sitting on the lip of the tank aluminum-to-steel is fine.

Lastly, the reason you add DILUTE base rather than 50% is actually not to avoid precipitating out the chromium. In a hexavalent state, Cr+ stays put. In fact, a great way to get impurities out of a dichromate seal tank is to raise the pH to 8, drop the aluminum, decant the supernate, ship off the sludge, and return the seal to the bath. You'd see that the supernate naturally goes back down below neutral if you haven't added too much hydroxide, because the -OH is now stuck to the +Al in the bottom of the tank! The +Cr is still in solution. You would have to reduce it to tri with something like a permanganate to get it to form an insoluble hydroxide, which would drop out of solution as pH is raised.

You DO need to be concerned about messing with the activators, though! A large percentage of the Iridite is made up of a Barium salt, and Barium readily forms whitish hydroxides. You'll see almost neon-orange-Tang looking clouds where you pour in your pH-up. Avoid that by diluting it A LOT! I can't find a pH solubility curve for Ba(OH)2 but this would be my first concern. And regardless of pH, its solubility is MUCH greater in very hot solutions. Iridite is not all that hot. Or at least it shouldn't be!

Last, I can't emphasize enough the importance of testing your deoxidizer. Do a white glove test on parts coming out of it. Or use a white cotton towel. If you see ANY discoloration, increase your time, agitation, or concentration. Be sure you are having the aluminum content tested regularly and stay below the manufacturer's upper limit. Deox by its very nature (peroxides or persulfates) is unstable and is rapidly used up under workload and also air sparging will deactivate it slightly. Be sure you are titrating it a couple times a week for redox and once for acid content. Daily maintenance adds are advisable for a busy shop.

Anyway I hope you solved your problem and that this is helpful for future platers! :)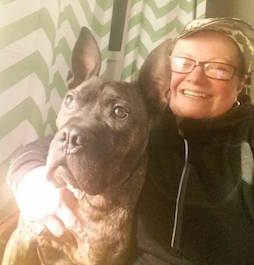 Rachel Mackintosh
Lab Rat and some other things - Greenfield, Vermont
April 11, 2016