Serious Education ... plus the most fun you can have in metal finishing.
Paint for inside of metal horse trough
July 9, 2009
I have a galvanized metal horse trough; the red oxide primer held up well,but the Mulasticoat did not hold up, UV rays of course. I know there has got to be something that I can coat it with, just don't know what. please call jeff . This is for myself, not for a job or client
Jeff Hinz
painting contractor - Castaic, California, USA
---
July 20, 2009
Hi Jeff- Did you find a solution for your trough? I have a need to do the same for a trough I have and haven't gotten any real solid advice...
Chris Lanier
- Jasper, Texas, USA
---
July 22, 2009
I'm wondering why you want to paint a galvanized trough? Has the galvanizing gone?
Is corrosion your concern? If so galvanizing will prevent that.
Does it leak that you want to paint it?
Are you concerned about zinc contamination of the water? (you can buy galvanized water tanks in many countries, been in use for years, decades, no problems).

If you have highly acidic water, that will dissolve the zinc, but then you'd not want your horse to drink that anyway.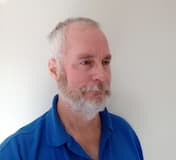 Geoff Crowley
galvanizing & powder coating shop
Glasgow, Scotland
---
September 7, 2009
The old standby still applies,
2 part epoxy paint.
It's not always attractive, but it's quick and effective if you prep the surface first. Look into it and think about it. Go to your local paint store tell them what you are looking for and they should be able to take care of you.
Marc Banks
Blacksmith - Boone, North Carolina
---
September 9, 2009
This is from a post I made some time ago:
A friend of mine got sick of painting his home made picnic table and chairs every two years. In desperation he hosed the whole works down with automotive box liner one spring. That was ten years ago and the whole issue has sat in his yard under rain, snow, sleet, hail, +90 degrees Fahrenheit, -35 Fahrenheit, 4 kids who used it as a space ship and a fort, assorted cats and dogs that like to lay on it because the jet black color is warm in the morning sun and an exasperated wife that insists on setting scalding hot pots and pans on it because she is sick of kids, cats, dogs, bad weather, stupid husband, his drunken friends and tacky, jet black backyard furniture that has a heavy stippled finish that causes the martini glasses to wobble every time someone blinks. But it should be noted that the damned stuff still looks like it was sprayed yesterday and I'm betting it will still be there after judgment day! ;o)
Some time ago a couple goof balls on the TV show Smash Lab tested box liner to see if it could be used as a means to make things explosion proof. By and large they did indeed blow up a truck and a pseudo house protected with spray on box liner. The only thing that really survived the blast was the box liner. If it wasn't plastic and prone to melting NASA would probably be using it on the space shuttle. LMAOROF

Rod Henrickson
gunsmith
Edmonton, Alberta, Canada