60,000 Q&A topics -- Education, Aloha, & Fun
topic 52552
Etching Textures in Shoe Sole Molds
A discussion started in 2009 but continuing through 2019
July 8, 2009
Q. We are trying to machine shoe molds using CNC machinery and we end up a fine surface finish. I want to know a method of applying textures such as matte finish, rough finish etc on the mold cavity surface. Please note that the entire cavity is not textured but only parts of it are.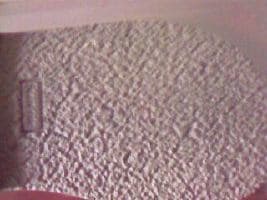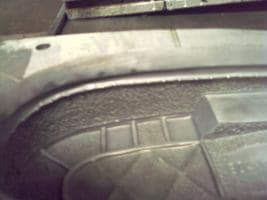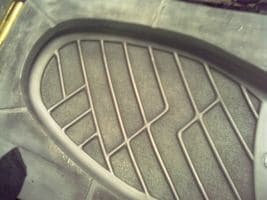 Etching has been suggested as well as sparking.
Vikrant Kandimalla
Owner, Promoter - Hyderabad, Andhra Pradesh, India
---
July 23, 2009
A. CNC machining will remove metal in a controlled way and this will give you a smooth finish. If you want to produce an uneven surface, as shown in the images, you can use spark erosion machining. This will give you an almost random metal removal process that will produce your required matte finishes

Trevor Crichton
R&D practical scientist
Chesham, Bucks, UK
---
August 2, 2009
A. The textures that you show in your pics are too deep for sparking (EDM). You need chemical etching also known as mold texturing.
Guillermo Marrufo
Monterrey, NL, Mexico
---
August 19, 2009
A. You would have to use etching paper to provide the textures you need. These molds are aluminum, right?
Rahul Chakravorty
- India
---
October 9, 2009
Q. Yea, they are aluminum. I am not able to get over this problem. Even if I cast the molds, I am not able to incorporate the finish I want.
Vikrant Kandimalla
[returning]
- Hyderabad, AP, India
---
October 9, 2009
A. Vikrant,

If you cast the shoe moulds, you can have any texture that you want. You need only to put the texture on the pattern that will be used to make the moulds to be cast in aluminium (or any other metal).

You can have an original pattern made of plaster, wax, timber, epoxy - just about any solid material - and then it is used as a master to make a more durable pattern which in turn is used to cast the working die. Given that you are dealing with a low melting-point material like aluminium, you can make the casting moulds from plaster.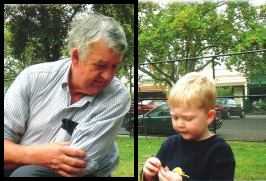 Bill Reynolds [dec.]
consultant metallurgist - Ballarat, Victoria, Australia
We sadly relate the news that Bill passed away on Jan. 29, 2010.
---
---
March 25, 2019
Q. How to cast iron in the desired shape, as China is able to make shoe molds in iron or aluminium? How is that possible? Any metallurgist, who can help in this?
Ankit sharma
G.S DIE MAKERS - Delhi, INDIA
---
March 2019

Hi Ankit. As you probably realize, people have been casting iron for 2500 years. So I know that your question is not simply how to pour castings in general, but how to do certain presumably difficult things that are required to meet your needs.

But readers who are already selling their technology for casting shoe molds from cast iron will surely not give away their trade secrets, and readers without shoe molding experience like myself do not understand what those issues are that you question implies. So I think you'll need to spend a bit of time explaining what those issues are other than simply pouring molten iron into a sand mold. Thanks!
Regards,
Ted Mooney, P.E. RET
finishing.com - Pine Beach, New Jersey
Aloha -- an idea worth spreading