Where the world gathers for
plating, anodizing, & finishing Q&As since 1989
-----
SURGICAL INSTRUMENT HARDNESS AND CORROSION PROBLEM
Q. Thanks for the info. I am a manufacturer of surgical instruments and we also use 420 stainless. some sources and product datasheets mention double tempering but I'm confused on this issue whether double tempering is necessary.
During the tempering process, should the pieces be thrown into the heated oven or should the pieces be heated to 250 degrees with the oven and left for 1 hour?
onur bayindir
- antalya/turkey
June 9, 2023
---
---
↓ Closely related postings, oldest first ↓
---
---
Q. Dear to all,

I want to take an advice for an issue. I'm working for a company that manufacture orthopedic implants. My problem is our screwdrivers & drills cannot reach the desired hardness after heat treatment. What we want is nearly 50-52 Rockwell. Our raw material is 420 Stainless Steel. Also another problem is stainless steel corrodes while heat treatment.

I want to take your expert opinion. What will be the true solution for heat treatment? What else metal can I use?

I'll be glad if you tell me detailed solution.

Kindest Regards;
Nedim Levi
- Istanbul, Turkey
May 26, 2009
A. 50-52 HRc is normal for hardened 420 stainless. Heat to 950-1000 °C (980 is good if you have close control on your furnace), soak at that temperature, fast cool by oil quench or air cool. Then temper 180-250 °C which will reduce the brittleness without reducing hardness.

Times: For thickness less than 10 mm, soak at 980 for 10-20 minutes, air cool will be fast enough, temper for 1 hour minimum. For thickness 10-25 mm, soak at 980 for 15-30 minutes, air cool with a fan will be fast enough, temper for 1 hour minimum. For thickness 25-50 mm, soak at 980 for 1 hour, oil quench will be needed to ensure sufficiently fast cooling, temper for 3 hours minimum.

In an air-atmosphere furnace, you will get superficial oxidation of the °C treatment. To avoid this oxidation, use a vacuum or controlled-atmosphere furnace. Optionally, you can clean off the scale after the heat treatment - the hardness is right through the section, so removing some of the surface by blasting/grinding/polishing won't reduce hardness.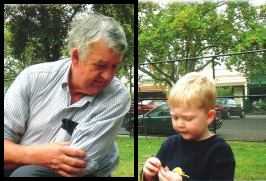 Bill Reynolds [deceased]
We sadly relate the news that Bill passed away on Jan. 29, 2010.
May 27, 2009
Q. Dear Mr. Reynolds;

Thanks for your quick response. I did heat treatment as you said and all the problems are solved for the first step.

My another problem is as you know; those instruments used in medical sector should be sterilized after every use. We put those instruments (Same material 420A SS) to autoclave like twice a week and heat them up to 180 190 °C. It's below tempering temperature but after this sterilization process steel hardness is decreasing.

After I use your method, I obtain 420A steel at 50-51 Rockwell C hardness but when I put them to autoclave I see those steel hardness is going down. Also I see sometimes corrosion after sterilization at autoclave and I guess it happens because of present of chrome carbide.

So how should I sterilize it via heat treatment without losing my hardness level?
Nedim Levi
[returning]
- Istanbul, Turkey
June 2, 2009
A. Hi Nedim,

It is easy to say "That is not possible" but we must look a bit more closely to find what is actually happening.

There will still be some chrome carbides in the microstructure after hardening and tempering, because 980 degrees doesn't dissolve them all. But they are present when you have completed the heat treatment and achieved your required hardness, so are simply part of the correct microstructure.

How much reduction do you see? What is the Rockwell hardness going into the autoclave, and what is the Rockwell hardness of the same piece after it has been autoclaved and allowed to cool?

What happens to the hardness if, instead of autoclaving, you put the fully heat treated items in the tempering furnace and temper them again at 180 degrees (that is, give them the same temperature cycle as autoclaving, but do it in the tempering furnace instead of in the autoclave)?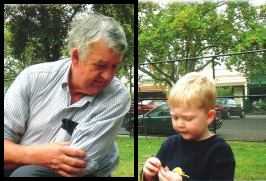 Bill Reynolds [deceased]
We sadly relate the news that Bill passed away on Jan. 29, 2010.
A. Some steels will lose 2 Rc the first time and 1 Rc on the second time and then take many times before it will lose another 1 Rc.
James Watts
- Navarre, Florida
A. Thanks James. Assuming that Nedim's experience is similar, it sounds to me to simply be inadequate tempering the first time.

Too many people, setting out to temper, put the item in a furnace or oven, bring the atmosphere up to temperature and start counting the time from when the atmosphere reaches temperature. At the low temperatures involved in most tempering operations (below red heat and therefore without heat transfer by radiation), there is a long time lag before the work gets up to anywhere near furnace atmosphere temperature. Often the work does not get the required time at temperature, and sometimes it doesn't even reach the required temperature.

When that has happened with a very low tempering temperature such as 180-250 °C, a subsequent operation such as autoclaving, which is done at a similar temperature, allows a little more of the previously incomplete or inadequate tempering to occur.

The important thing is the temperature and time of the work, and the furnace needs to be operated in whatever way causes the work to go through the required temperature-time cycle. Tempering is a diffusion-controlled mechanism, and any given degree of tempering requires an appropriate combination of temperature and time.

If the hardness after several cycles of autoclaving has leveled out one or two Rockwell C numbers below the target range of 50-52, and if this is actually a problem, increase the austenitizing temperature from 980 °C to 1020 °C, which will put a little more of the carbon into solution and thus give a slightly higher initial hardness.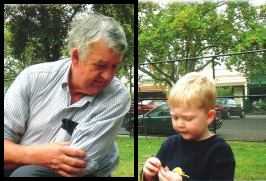 Bill Reynolds [deceased]
We sadly relate the news that Bill passed away on Jan. 29, 2010.
Q. Dear Mr. Reynolds and Mr. Watts;

Thanks for your great help. I really listened what you say very carefully. I hope one day I can be an expert like you are, if you think I'm just a teenager recently graduated from college.

I followed your steps Mr. Reynolds. I raised hardening temperature to 1050 °C for 30 min. Then quenched it to room temperature in the presence of nitrogen environment. Lastly tempered it at 150 °C (Time depends of the radius of screw-driver shaft). I'll try to put carbon content during the austenitizing to raise initial hardness; I haven't done it yet.

Unfortunately we can't use temper furnace instead of autoclave ones because most of the hospitals want to do their own sterilization. But they just have small autoclave furnaces. They put all medical instruments to one furnace and heat them up almost 130-140 °C for 75 minutes. Hospitals do that procedure like four times a week. My opinion is doing this procedure four times a week take all internal stress and that's the main reason hardness keep continues in every sterilization. Please correct me if I'm wrong!

About your question Mr. Reynolds, after 7 or 8 sterilization, hardness becomes 51-52 to 44-43 Rockwell C. That's a problem because sometimes screws can be harder than that value so even THEY CAN BEND THE DRIVER! Please notice that it occurs during a SURGERY!

Besides, the other problem is those instruments not corrode but get darker and keep stains after those heat treatment and sterilization. And we can't get rid of by cleaning or surface finishing methods. Can you give an advice for that problem as well? Maybe this is the most convenient question for this website. All the distributors and doctors complain about this problem. Justifiably they want shiny stainless products. Please tell me how I can fix that problem.

My final conclusion is maybe the material is not suitable if I desire a long-service life. Maybe I can use 420F (Mo content) or 465? What are you observations? Because I really take care what you say Sirs.

Kindest Regards;
Nedim Levi
[returning]
orthopedics - Istanbul, TURKEY
June 18, 2009
A. Nedim,

I cannot think of any reason or mechanism that would give the large drop in hardness that you describe. It is clearly very different from the situation that James described.

Actually, I can think of just one possible reason, which involves abuse by the users. If the users of the items heat the ends in a direct flame, or have them close to heating elements so that they are heated to something like 400-500 °C, then they will soften as you describe. But that abuse is the only thing that I can see that would soften them.

I'm sorry, but that's all that I can offer without either sample material or the possibility of directly observing ALL things that are done to the items.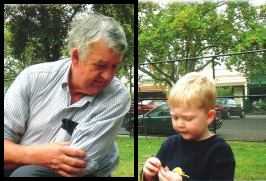 Bill Reynolds [deceased]
We sadly relate the news that Bill passed away on Jan. 29, 2010.
A. Nedim,

we are also manufacturing surgical instruments in Istanbul.

are you sure that your raw material of stainless steel is qualified to be surgical instrument?

there are only a few companies I know who have proper steel for surgical tools.

bumin
Bumin Kahveci
- Istanbul, Turkey
July 3, 2009
!! That was indeed an interesting and informative discussion.

It is not clear whether you are looking for bulk hardness or surface hardness. For drills, knives, etc surface hardness is more important in which case PVD coatings like TiN - which have beautiful golden like colour - are used. They would not tarnish while autoclaving. Such coatings not only increase tool life but make the cutting process easier.
H.R. Prabhakara
- Consultant
Bangalore Plasmatek - Bangalore Karnataka India
July 10, 2009
---
---
Q. I got new ideas of hardening after reading Mr. Reynold's answer.
we manufacture surgical instruments such as forceps, scissors, etc. For forceps we need hardness of 45 HRC & for cutting instruments we want 50-52 HRC.
What is the method to get 45 HRC on SS410 grade?
It is mentioned as to temper 100-125 °C after hardening.
what is this procedure?
Can anyone give me detailed procedure for hardening such as the usage of furnace, temperature to be set etc.
what is nitrogen hardening? What is the machine used for it?
Please reply
Johny Thomas
instruments - Khannanagar P.O.Koratty, Kerala state, India
January 13, 2011
A. Dear Johny, how are you?
Hope you are doing good
We too had many trials with SS 410, but we got excellent results from SS420J materials, the major issue was with locally bought raw materials, it Shows different chemical compositions in different bars, then we started importing raw materials from a reputed manufacturer, sent every batch for a third party test before taking that to process.
Also if you can monitor the temperature during hardening and tempering process, you can achieve excellent results.
Thanks
Vijay
Vijay K,
- Palakkad, Kerala, India
June 21, 2014
---
---
Soldering tungsten carbide tip on stainless steel needle holder softens it
Q. Dear Sir,

How are you? Hope you will be good!

Now we have some problems and we want your expert opinion; hope you will provide your kind assistance.

We manufacture surgical needle holder of stainless steel of Grade AISI420.

We do heat treatment process on these instruments before soldering TC (tungsten carbide) tip on needle holder mouth.

After tempering we got Hardness 47 HRC but when we solder tip of TC the hardness decreases almost to 36-37 HRC.

We use induction heating machine for soldering and we want to gain hardness 43-45 at tip.

Please provide your expert opinion regarding at what temperature and duration (seconds) we use for soldering so that we can gain our required hardness 43-45 HRC.

Again thank you in advance for your kind assistance.

We will highly appreciate for your help.
Engineer Muazzam
- sialkot,Pakistan
August 22, 2015
---