topic 5255
How to Grind Aluminum Welds
(2000)
We grind, then sand aluminum to remove welds and blend in hardware so they are not evident after top coating with either liquid or powder. To achieve this, we use a wax stick on the grinding disc to prevent loading up the disc with aluminum. The situation this creates is that sometimes the wax will become embedded under the rivets or hardware and announce it's presence after the top coat has been cured. We apply a chromate conversion coating prior to assembling the components.
After the assembly and grinding, the parts are then washed in a commercial spray washer using a mild detergent and hot water for both the wash and the rinse. Is there some other process we could utilize to accomplish the grinding. All of our assemblies are cosmetically critical and require a high level of finish.
Ed Peters
- Frederick, Maryland
---
(2000)
Although you have described your end problem very well, you have not given enough information preceding grinding. There are a lot of optional methods that may accomplish your task; however, it sounds as if you are trying to work within the methods and procedures you already have. That may not be the best way to go in the long run. Careful consideration to alternate methods depends on volume and cost of manufacturing.
I know this may not be what you want to hear, but those are the facts. Short answer: eliminate the wax in the operation and/or change contact wheel.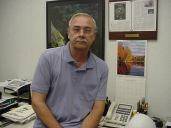 AF Kenton
Hatboro, Pennsylvania


This public forum has 60,000 threads. If you have a question in mind which seems off topic to this thread, you might prefer to Search the Site