Live! From beautiful Pine Beach New Jersey: Welcome to the world's most popular metal finishing website
topic 51810
Apply Zinc coating weight 275 g/m2
April 8, 2009
Q. I am looking for the optimum process conditions to produce thickness 2 mm with zinc coating weight 275 g/m2 without zinc pimples at the edges.
so please we need your advise for the following:
- optimum Air knife angle
- the optimum vertical distance ( between knife and zinc surface)
- the optimum horizontal distance ( between the strip and knife)
- optimum air knife gap
Hazem Gad
steel - Egypt
---
April 12, 2009
Q. Dear sir,
at galvanizing line, I am searching for optimum process conditions to produce galvanized coils, thickness 2 mm, zinc coating weight 275 GSM. because when we produce this type of products we face some defects such as zinc pimples at the edge and rough coat
I am just asking whoever having a lot of experience in galvanizing lines send me how can we produce this type of product without these defects at the edge.
So how can we remove or get rid off these defects ,
I hope the problem is clear and waiting for any help and guide.
Hazem Gad
[returning]
steel - Egypt
---
April 13, 2009
? Hazem,
What values are you using now, for the four aspects? Give us your actual numbers.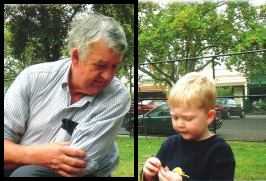 Bill Reynolds
consultant metallurgist
Ballarat, Victoria, Australia
We sadly relate the news that Bill passed away on Jan. 29, 2010.
---
April 14, 2009
A. Sir,

I Suspect your kettle walls are "dirty." In the alternative if you could provide test results of your zinc bath, the answer to your problem may be in the composition of the zinc.

Regards,
Dr. Thomas H. Cook
Galvanizing Consultant - Hot Springs, South Dakota 57747
---
---
Is Galvanised Z275 or chromated best?
August 2, 2010
Q. Dear Sir,
I am an engineer and our company will sell some indoor cabinets to southeast Asia where the humidity level is high. Due to cost saving reason I have been asked to shift the yellowish chromated sheet metal to galvanised steel. I am not sure for this applications even if it would be painted. I would be really glad if it is right or wrong.
Thank you for your kindness and interests.
Yours Sincerely,
Ozgur Baskaya
employee - Turkey
---
August 3, 2010
A. Hi, Ozgur.
Z275 indicates hot dip galvanized steel with a zinc weight of 275 g/m2 (total counting both sides) on the sheet metal or about .90 oz./ft2 (G90). This would be a thicker coating than electroplating, about .0075" thick on each side, so I would be surprised if this was less expensive than the zinc electroplating and yellow chromate conversion coating you presently do, since it probably involves about three times as much zinc; but if you are presently electroplating after fabrication, it might. I would expect either coating to be sufficiently corrosion resistant for general indoor use, even in a humid environment. Paint on top of either would improve the corrosion resistance further, but simply painting the cabinets after a phosphate pretreatment in lieu of galvanizing or zinc plating should also give sufficient protection for general indoor use while probably being less expensive. Good luck.

Regards,
Ted Mooney, P.E.
finishing.com
Pine Beach, New Jersey
---
---
September 21, 2010
Q. We use hot dip galvanised steel coil plate in thicknesses of 0.8 mm - 5 mm and widths to 1,200 mm, and coated to 275 g/m2; 350 g/m2 and 450 g/m2 of zinc. Is Dacromet coated steel coil plate available with matching levels of coating, and how would we word contract specifications for each of those levels of protection?
Peter Jeffries
engineer - Sydney, Australia
---
---
March 30, 2018
Q. Hi sir
I have started my Galvanization plant. The constant problem that I am facing is high coating; so how to control the zinc coating? Because sometimes coating is required 275 g/m2 but passes the 280 & 285. So how to control this -- what is the divice used for controlling the Coating.
Ashwani Singh
- Gujarat, India
---
March 2018
A. Hi Ashwani. It sounds like you are galvanizing a continuous coil reel-to-reel? My understanding is that air knives control the thickness in such operations. But even 285 g/m2 exceeds the minimum by well under 4%; that doesn't sound like much to me.
Regards,
Ted Mooney, P.E. RET
finishing.com
Pine Beach, New Jersey
Striving to live "Aloha"


If you have a question in mind which seems off topic, please Search the Site