Live! From beautiful Pine Beach New Jersey: Welcome to the world's most popular metal finishing website
topic 51622
Rusting Of Stainless Steel Railings
A discussion started in 2009 but continuing through 2018
March 18, 2009
Q. We are fabrication company, who is taking care of stainless steel fabrication and installation. one of our projects, the Aquarium Museum, we have installed Stainless Steel railing (just at the top of the fish tank) of 316 Grade as required by the client to use the stainless steel marine grade. Now the railings get rusted, and the client is telling us that this happened because we didn't use the marine grade 316L.Our understanding is the marine grade is the 316 and not 316L, is that right? then the client is proposing another detail of the railings where he is going to use 316L, and we think that since United Arab Emirates (Dubai) is a severe corrosion environment, and since we are going to put the new railings at the top of the fish tank, then we think that the railings will rust also.

Please advice.

Thanks
Mohammad Shahrour
Metal Fabrications - Dubai, Dubai, United Arab Emirates
---
April 15, 2009
A. These days it seems like stainless railings, etc., won't hold out forever in any chloride environment (oceanic coastal areas, swimming pools), but with good passivation and periodic re-passivation the onset of corrosion can be forestalled as long as possible. With citric acid based formulations, corrosion clean-up and re-passivation can be done on site. Let us know if we can help.

Ray Kremer
Stellar Solutions, Inc.
McHenry, Illinois
---
April 30, 2009
A. Dear Mohammad,

There is no significant difference in corrosion resistance between AISI 316 and AISI 316L. Only in the welding zone, AISI 316L will perform slightly better.
It is normal that SS 316 or 316L is rusting in marine applications. The only known solution until now, to prevent AISI316 from rusting in marine (and most outdoor applications) is by electropolishing. In Belgium, this treatment is successfully used for all outdoor stainless steel applications. Most outdoor SS which is not electropolished starts rusting within a year - unless you clean often.
Kind regards,
Marc Quaghebeur
- Brugge, Belgium, Europe
---
May 5, 2009
A. For resistance to the chloride in marine environments, which 316 and similar old grades can't handle, go to a duplex such as 2205.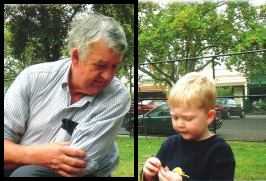 Bill Reynolds
consultant metallurgist
Ballarat, Victoria, Australia
We sadly relate the news that Bill passed away on Jan. 29, 2010.
---
May 6, 2009
A. I couldn't agree more with you Marc,

Not only in Belgium, but also in the Netherlands, stainless steel which is used for outdoor (marine) applications is more and more electropolished. Besides that, over the last years we did some testing with all kinds of finishing and treatments of stainless steel in the United Arabic Emirates and the outcome of all those test pointed out that electropolishing is the best treatment for stainless steel used in outdoor applications.
Klaas de Boer
- Heerenveen, the Netherlands
---
September 17, 2009
A. As Klaas and Marc stated electropolishing is by far the best way to increase corrosion resistance of 316 or 304 used in marine environments. It should be used as the last step in the manufacturing process.
Concerning hand railings, its a unique challenge as a lot of railings are welded on-site. We usually tell our clients to electropolish as much of the railing in-house and then electropolish the welds on-site. Another inherent problem with hand rails are...they are exactly that...hand rails and will be touched, rubbed on scratched etc. This can create voids in the passive layer and lead to way-in-the-future corrosion. By the time the corrosion is visible usually the handrail is well-used and can be re-electropolished on-site. Do not use steel wool to clean stainless under any circumstances!
Cliff Kusch
electropolishing shop - North Vancouver, British Columbia, Canada
---
---
March 8, 2012

-- this entry appended to this thread by editor in lieu of spawning a duplicative thread
Q. Hello,
I am a metal fabricator that recently built a decorative edge around a swimming pool from 5/8" x 2" 316 stainless with a #4 finish. The stainless edge sits about 6" above the surface of the water where a bull nosed tile would typically finish out the deck around the pool. In two places, just above the ozonators in the pool that are bubbling ozone, as a purification agent, into the water, there is rust forming on the surface of the stainless. I assume that the ozone is an oxidizer and that the bubbling water also adds water vapor to the air near the site of the rusting. I have cleaned the rust off with oxalic acid (the product Bar Keepers Friend) and sealed it with a silicone lubricant/spray but the rust has returned. Is there a better way to passivate the surface and/or seal and protect the surface? Thank you.
Sincerely,
Caleb Kullman
Caleb Kullman
- Montrose, Colorado, USA
---
April 4, 2012
A. Swimming pools are rough places for stainless due to the chlorine. You are likely correct, the bubbling is throwing the chlorine water up onto the stainless and accelerating the corrosion there. The areas where this is occurring will likely require fairly constant maintenance and passivation treatments. This can be done safely and easily with citric acid based products. Let us know how we can help. We have been dealing with stainless steel issues around pools for years.

Ray Kremer
Stellar Solutions, Inc.
McHenry, Illinois
---
May 19, 2012
A. I think the problem is with the chlorine. We have been cleaning rust from the stainless rails in many YMCA's here in Ontario.
We've had very good success with a soda ash (sodium carbonate), 3F pumice, sodium silicate, and soap blend.

The silicate delays/protects the metal from oxidizing sooner.
Darren Olson
- Toronto, Canada
---
---
August 12, 2018
Q. I have great issues with some concrete stains on Stainless Steel handrails.
I also have another part made of Stainless Steel affected by chemical damage which has darkened the railings and has also induced rust.
Please, what can I do to redeem both situations (clean the concrete and redeem the chemical tarnished rusting railings)?
Cvukwuma Okpalaezeukwu
- Aka, Anambra, Nigeria


If you have a question in mind which seems off topic, please Search the Site