Where the world gathers for
plating, anodizing, & finishing Q&As since 1989
-----
Corrosion of anodized 7075 T73 vs 7075 T6 aluminum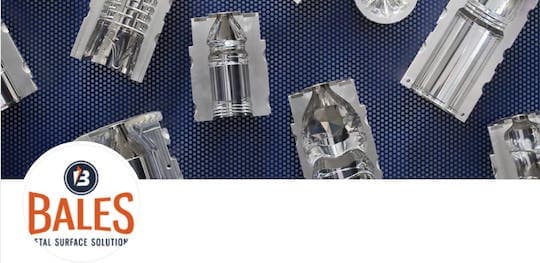 Q. We have two sets of anodized aluminum samples. Both sets were anodized at the same time in the same anodize tanks under the same conditions. The T6 temper samples passed the salt spray corrosion test while the T73 temper samples had corrosion pitting. Does anyone know why the T73 would be more susceptible to corrosion pitting than the T6?
John Basinger
aerospace user of plating shops - Sunnyvale, California USA
February 25, 2009
A. The zinc in the 7000's migrates to the grain boundaries when heat treated, then when you make it anodic in sulfuric acid it "de-plates" and leaves tiny pits. common knowledge, nothing you can do about it, but it sometimes helps to ramp up slower.

Robert H Probert
Robert H Probert Technical Services

Garner, North Carolina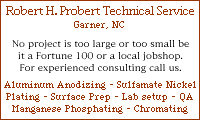 A. John
If you leave the 7xxx aluminum in a city water rinse too long, pitting would occur on the surface prior to anodize. After anodize was a bit more forgiving.

In San Jose, too long was 10 minutes. Not sure about S'vale.
Willie Alexander
- Colorado Springs, Colorado
Q. Thanks for the responses. Any idea why the T73 temper would react differently than the T6 temper? All anodizing conditions were the same for both tempers.
John Basinger
[returning]
Aerospace - Sunnyvale, California, USA
March 27, 2009
A. John
The temper has an effect on the anodizing process. 6061-T6511 and T651 do not behave alike when hard anodized. 2024-T3 and T351 show differences, particularly when being dyed.

What is the type & class of anodize?
Has your supplier processed T73 before with success?
Is the T73 material significantly aged?
Willie Alexander
- Colorado Springs, Colorado
Q. Willie,
The anodize is Type II, class 1 and 2.
While the supplier has anodized this alloy before, no corrosion testing was performed so it is unknown if past hardware would have passed the corrosion test.
The T73 is an overaged alloy. I assume the aging of our particular material was typical for the T73 alloy.
John Basinger
[returning]
Aerospace - Sunnyvale, California, USA
March 31, 2009
A. John,
As best I can put together, 7075-T73 is a solution heat treated and specially aged alloy. During this process, micro constituents "precipitate from the" phase. Precipitates are not readily soluble in generic caustic etches nor nitric acid desmut/deoxidizers- the typical cleaning process. During the anodize step, these precipitates may i) dissolve, ii) partially anodize, or iii) be non-reactive. They may be present on the surface at the time of anodize, or become incorporated into the coating as the coating forms. They are referred to as linear defects, linear markings, specific alloying constituent phases, and random minute stringers of micro-constituent particles, among other names. Regardless, they can be interruptions in the coating integrity.

Documentation suggests that use of an acid etch (hydrofluoric, ammonium bifluoride, or sodium fluoride) or a bright dip (phosphoric + nitric) rather than a caustic etch may yield favorable results.

Failing that, I would attempt to produce a thicker coating, then a denser coating, then having another reputable supplier process coupons from the lot in question. Is it the process or the material that is the problem?
Willie Alexander
- Colorado Springs, Colorado
Q. Willie,
It has to be the specific alloy and temper as the process is working fine when used on 6061, 2024 and 7075 T6.
John Basinger
[returning]
Aerospace - Sunnyvale, California, USA
April 8, 2009
---
---
Q. Hello Willie, in search for my better understanding of the over aged tempers of 7075 and 7050 aluminum alloys, I came across articles and some studies in the web regarding age precipitates for the 7050 and 7075 over aged alum alloys and pitting after anodizing.
I understand this temper is an over aged flavor of this 7075- T6 temper and has excellent stress corrosion resistance, based on my understanding the corrosion resistance it is obtained through a discontinuous network of aged precipitates crated by the over aging of the material, including the development of a discontinuous network of the precipitates along the grain boundaries, however, this over age condition also promotes coarsening of these precipitates, including second phase material formations.
Additionally, it seems also that the discontinues precipitates also crates imperfections, or openings within the grain boundaries were contaminants or other impurities might be trapped from the environment or processes, specially anodize or other chemical process, and this condition will assist in the development of pitting of the precipitates including the second phase particles, is this more or less, correct?
So, it is important that these parts are kept dried and in a free chlorides' environment including sulfides, some processors recommend maintaining the chlorides below 50ppm, I did not find any recommendations levels for sulfides, so I would assume no sulfides. I believe the sulfides are introduce in the anodizing process, so I guess other chemical process is needed to remove the sulfides before sealing the parts, correct?

Also, I want to think that the development of the over aged temper material namely 7050 and 7075, considered the readily pitting susceptibility of these temper, however the impact was over weighted by the resistance to stress corrosion cracking. I might be wrong it just my thought.
if not trying to eliminate pitting on this alloy flavor it is extremely expensive and special process like in the medical equipment, space equipment is needed to overcome this pitting issue. as suggested from some processors proper ground tanks racks equipment-controlled chloride tanks, dedicated anodize line process of each aluminum flavor, isolated anodized process facility away from possible sources of chlorides, special oxygen free packaging through the process etc...
I much appreciate sharing your thoughts.
Miguel Diaz
- sun valley
May 4, 2023
---