topic 51199
Copper electroforms peel or curl away from glassy surface
February 9, 2009
Q. I own a small jewelry business and I like to electroform an accent trim on many of my non-metal jewelry pieces. One problem that is driving me crazy is that when I electroform on a very glassy, slick surface like glass or agate, my copper solution is not adhering tightly to the surface, but tends to peel away or lift up on the edges. For example, when I electroform on a two inch square piece of glass, an eight of an inch thick, I paint my silver lacquer based conductive paint all along the edges extending onto the surface of the edge of the glass about an eight of an inch. When I start plating, the outer edge of the electroforming area starts to lift up and peel. This happens no matter what amperage I use, and I have tried all ranges of amps. I have also tried varying my air agitation, from none to heavy agitation, moved the pieces closer or further from the anodes,etched the glassy surfaces before painting, and the edges still do not want to hug the glass, but peel and curl upwards. The thing that is really aggravating is that many pieces I made over ten years ago did not have this problem. But the solution I am using now, from a major plating supplier, is different from what I used long ago. Can anyone tell me what the problem may be? Could it be something about the electroforming solution and not my procedure? This only happens on glassy surfaces, all other non-slick jewelry items electroform just fine. I will answer any follow up question if anyone needs further information to help diagnose this problem. Thank you very much.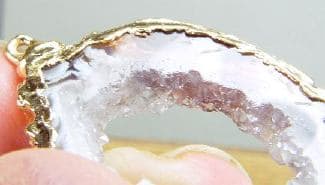 peeling and curling edges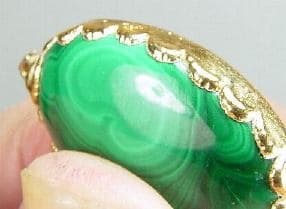 desired result
Vance McCollum
designer of electroformed jewelry - Summerville, South Carolina, USA
---
First of two simultaneous responses -- February 12, 2009
Maybe you can use electroless silvering (or coppering)- it must be much better than conductive paint. I work in museum and some late 19th/early 20th century pieces in our collection are still in perfect condition (early examples of electroplating/electroforming on glass). Hope it helps and good luck!
Goran Budija
- Zagreb,Croatia
---
Second of two simultaneous responses -- February 12, 2009
You may try the following:
1-Try to lower the tensile stress of your plating ,which can be done by some type of additives.
2- If it possible to under paint the conductive paint with lacquer or glue to improve adhesion .
Hope this will help and good luck.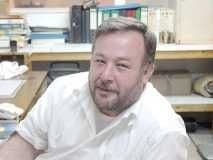 Cair Shishani
aircraft maintenance
- Al Ain, UAE
---
February 12, 2009
Vance,
It appears that you do beautiful work. This is a tough one, but I'll do my best to help. The first thing I would examine is; if you are indeed getting good adhesion with the conductive paint on the slick surfaces. After the paint cures you could perform a simple tape pull test using a high quality scotch tape (I prefer 3M). If the adhesion is poor, etching of the glass or mineral surface should be improved. The surface should be as porous as possible.
If the adhesion is good, are you activating the conductive paint before copper plating? With this different bath you may need a copper strike. The plating solution may or may not be the culprit. When I worked with electroformers in the past, using a copper sulfate solution, they preferred the copper concentration to be at 2 - 2.5 oz/gal and the sulphuric acid at 12-13% by volume. Chloride level would remain the same. They plated with a low and slow approach. Hope this helps you.
Mark Baker
Fellow Plater - Syracuse, N.Y., USA
---
---
April 6, 2012
Q. Hello, I was wondering if anyone here could give me some advice.

When I am electroforming in acid copper solution, sometimes I need to repair the pieces due to imperfections. My procedure is as follows:

I take out the pieces, dip them into de-ionised water three times, dry them. After polishing out the imperfections I need to return them to the acid copper solution. I electroclean them, and then dip them into de-ionised water mixed with 10% sulphuric acid in order to activate the electroforming process. Is this method correct or does anybody have any tips regarding a better way of doing it.

Thanks Gustavo
Gustavo Faraone
Jeweller - UK
---
First of two simultaneous responses -- April 9, 2012
A. You'll get better adhesion of the second layer if you add a little ammonium persulfate (one or two ounces per gallon) to your sulfuric acid dip. Leave the parts in the sulfuric-persulfate until the surface is slightly dull, probably a minute or two.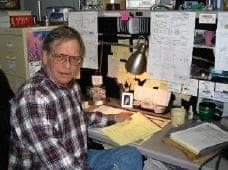 Jeffrey Holmes, CEF
Spartanburg, South Carolina
---
Second of two simultaneous responses --April 10, 2012
A. Good day Gustavo.

I would say your procedure could use 50 g/l ammonium persulfate added to the 10 % sulphuric acid. The adhesion issue is of great importance when plating on polished acid copper. The persulfate gives a micro etch, and also removes all traces of acid copper brightener, which is high in organics. I would use this acid when you remove the items from the plating solution, and when activating the items for re-plate.
Hope this helps.
Regards,
Eric Bogner
- Toronto, Ontario, Canada
---
April 11, 2012

THANK YOU THIS IS VERY HELPFUL
Gustavo Faraone
Jeweller - UK


If you have a question in mind which seems off topic, please Search the Site