Live! From beautiful Pine Beach New Jersey: Welcome to the world's most popular metal finishing website
topic 5188
Tin Plating Anodes Have Black/Grey Film
A discussion started in 2000 but continuing through 2018
2000
Q. We are doing electro-tin plating on copper wires. Lately we observed that the percentage of tin is depleting from the bath and the acid percentage was going up. With this we also observed that the tin anodes have black/grey film on them. could this be causing the high acid and low tin content,if so please advice why do the anodes have film on them and how to solve this problem.
Asit Kumar
- New Delhi India
---
2000
A. Sounds like your anodes have gone passive and you are plating out of solution. Applied voltage is probably higher and possibly you see more gassing from the parts. Cause, normally less than a 1:1 anode : cathode ratio. Scrub clean, and add more anode area.
James Watts
- Navarre, Florida
---
2000
Q. Dear James, Thanks for getting back to my problem. I have checked the ratio and found that the anode area is twice the dipped wire in the tank. The problem is that when we start with new/clean anodes ,initially the voltage is about 2 volts and current about 90 amps but after sometime we observe the current going down and to maintain the current at 90 amps the voltage of the bath increases to about 4.15 volts. We are operating at about 250 amps/sf.ft current density. Also the acid content of the solution keeps rising.
ASIT KUMAR
[returning]
- new delhi india
---
2000
? What are your bath parameters? All components and temperature. How close do you keep them? What is your analysis schedule?
James Watts
- Navarre, Florida
---
2000
Q. Thanks for responding back.
The bath composition we are using is
Tin as metal 55 grms/litre
sulfuric acid 50 grms/litre,
the temp. of the main tank is room temp. about 32 deg c
there are 30 turns of wire in the tank
the wire dia is .350 mm
the dipped length of each turn is 3 ft 10 inches
the total area of wire dipped in the tank is .4146 sq ft.
taking a current density of 250 amps/sqft we arrived at a current of 90 amps.
the speed of the wire is 75 mts/min
we add about 2 gm/litre gelatin to the tank .
What we observe is that the anodes are not consumed to a great extent. we analyse the solution on a daily basis and we notice that the tin content keeps going down and the sulfuric acid keeps increasing. the anodes also turn black.
To give you an idea of the solution the tin is in the range of 35 grms/ltr and the sulfuric acid has shot up to 102 grms/ltr. please suggest where is the problem. should we throw this solution and prepare a new solution ,if so please advise the tin and sulfuric acid concentration.
ASIT KUMAR
[returning]
- New Delhi India
---
2004
A. (REF: books)
1- You may have lead contamination in your anodes.
2- Shouldn't the color of the anodes be yellowish if so, your anodes should be in over passivation state.to do so you need to insert anode slowly into, power on max with a dummy, so to over passivate the anode; to hold this state of over passivation your anode should be a lot smaller than your cathode.
Hope this help, and feedback would be great.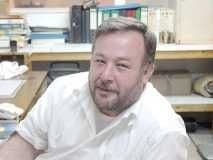 Cair Shishani
aircraft maintenance
- Al Ain, UAE
---
2004

SORRY, the second part of previous answer is not applicable for the mentioned tin plating solution .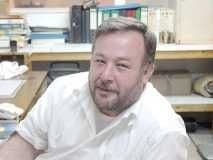 Cair Shishani
aircraft maintenance - Al Ain, United Arab Emirates
---
---
Anodes not dissolving in bright acid tin plating bath
December 21, 2010
Q. We use acid bright tin plating bath. Conc-30 g/lit and sulphuric acid 120 ml/lit max. We normally use 4 anodes of size 300 x 100 x 12.5 mm. We usually get a bright good finish at 40 amp. But presently we plate at 30 to 35 amp and also we have been advised to reduce the anode surface to a min. 2 anodes. For the past 2 weeks we observe that the anode is not dissolving and the solution gets depleted of metal content which forces us to run plating by the addition of stannous sulphate. During the past years, since anode dissolution was more, the metal content normally shoots up and we used to dilute the bath.
Also when the anode dissolves, we have seen black coating on the anode surface which when cleaned, the bright crystalline surface will be exposed. Now we have no such film, but a dull grey coating with foaming from the anode surface even at a current of 20 amp. Since the plating is mainly from the bath, the finish is also not good. We use lesser brightening agent since it produces micro bubbles on the tiny object we plate. The bath consumes more additive. Since the anode is not dissolving, we have checked our electrical lines, activated the surface of anode and also tried with increasing and decreasing the cathode current density. What would be the factor affecting the dissolution of anode suddenly? Is it due to contamination of the bath or anode? Analytical reports of the solution shows the metal content and sulphuric acid content are within the specified range.
Chithra Krishnaswamy
Process Control - Chennai, Tamilnadu, India
---
December 23, 2010

When is the last time that you changed the anode bags and possibly reactivated the anode?

James Watts




- Navarre, Florida





---

December 23, 2010

Hi Chithra,

Several things to clarify:

1. Any abnormal high rectifier voltage base on same current setting compare to previous?

2. Any significant amount of gas evolve from anodes?

3. Any change of anode supplier recently?

4. Did anode basket enclose with anode bag or diaphragm which solution flow is blocked?

5. Have you tried to take a pc of anode and plate in hull cell or beaker (with plating solution take from same plating tank as well) to verify if dark film able to form and/or anode able to dissolve?

Regards,
David



David Shiu




- Singapore




---
January 11, 2011
A. Hi ,

Some dilution of solution will help and remove anodes when you don't plate.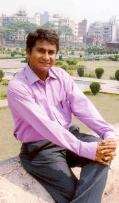 Praveen Kumar
plating process supplier
Mumbai, India
---
---
Cleaning Polarized Tin Anodes
April 21, 2016
Q. Hello,
We are currently working to resolve an issue we seem to be having with our tin line and I'm inquiring as to whether there is a way to clean tin bars which have been polarized. We are attempting to create a fresh plating bath however we've replaced all of the tin bars, which should still have much life to them but currently cannot be used since the are black and polarized. Since the replacement of the bars was an expensive one, we would prefer to be able to salvage what we currently have.

We have already tried getting the bath temp to where it should be (around 100 °F) and having it circulate. The idea was that this should work however it seems that this hasn't been as beneficial to the cleaning of the anodes as we had hoped.

I appreciate any advice or help!
Nicole Hannis
- Ohio
---
April 2016
A. Hi Nicole. Two pages from "Garden State Branch AESF Electroplating Course Manual" --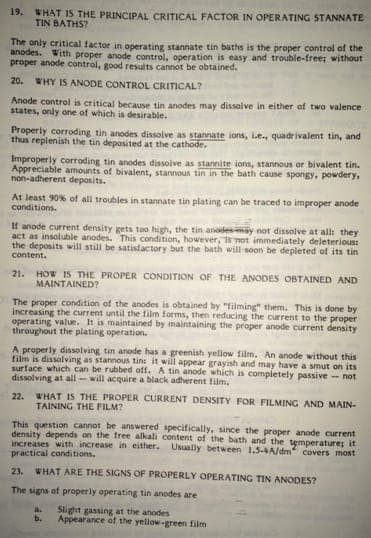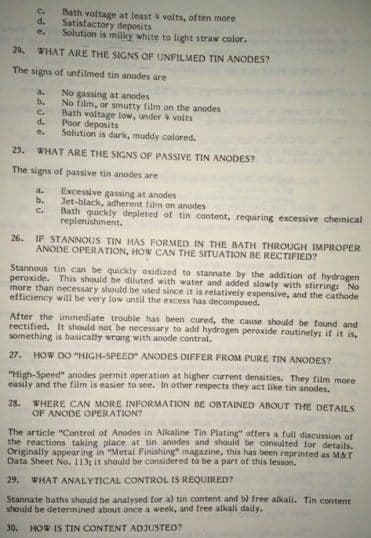 Copyright note: We try to be careful and supportive of copyright, but ... Because this volume was offered for years for the cost of printing with no markup, and because the other ways of getting it out to people have dwindled to non-existent, and because the whole book was typed by my administrative assistant at no cost to anyone but me and I hate to see those long months of work lost to posterity and completely wasted, I don't feel bad posting such excerpts. Credit to F.A. Lowenheim for the original article, and to F.J. "Cy" LaManna, editor of the 1986 edition :-)
Regards,
Ted Mooney, P.E. RET
finishing.com
Pine Beach, New Jersey
Striving to live "Aloha"
---
April 21, 2016
Q. Thank you for your response!

In an effort to solve our polarization issue, we are also looking having testing done for contamination of iron. From a previous question, I'm wondering if we should also have the bath solution tested for lead?

We haven't been as attentive as we should be to the testing of the plating bath. We currently test stannous tin, free acid, and have an outside lab test those in addition to some additives (MSA and a Primary). The in house testing is done on a non-regulated basis from what I have found (definitely not daily) and the outside testing is done monthly unless there's been an issue. We also only perform hull cell testing when there's been an issue. From reading the information on those pages, I noticed the need to determine the amount of free alkali daily as well?

It's obvious I need to have a better testing plan implemented regardless.

Thanks!
Nicole Hannis
[returning]
- Youngstown, Ohio, USA
---
---
Tin Anodes Turn Black After 2 days
August 25, 2017
-- this entry appended to this thread by editor in lieu of spawning a duplicative thread
Q. Our company encountered faster oxidation rate of Tin anode and Tin anode turn black color 2 days in the bath.
Wayne Lim
- Thailand
---
August 2017
? Hi Wayne. We added your inquiry to a previous thread on the same subject. Please tell us what kind of plating you are doing, i.e., bright acid tin (stannous sulfate?) or MSA-based, or alkaline stannate bath.
Regards,
Ted Mooney, P.E. RET
finishing.com
Pine Beach, New Jersey
Striving to live "Aloha"
---
August 25, 2017
Q. Hi Ted. We are using bright acid Tin.
The black sludge from the anode balls makes the anode bag choke. It is blocking the current and giving high voltage, making defects in the products.
Wayne Lim
[returning]
- Bangkok, Thailand
---
August 30, 2017
A. Hello, The first thing I would do is give the bath a complete analysis. Be sure it is also analyzed for Stannic Tin. Too high a concentration will definitely cause you problems. Secondly, verify you are using pure tin anodes, and check the anode bars and baskets to ensure the proper current is being distributed. A clamp ampmeter is the best to use. For a bright tin sulfate bath, these are the recommended steps I would take.
Mark Baker
process engineering - Phoenix, Arizona USA
---
---
Tin Anode in Hull Cell Turned Brown
June 29, 2018
Q. My situation:I recently conducted some Hull cell test on an acid tin solution at 2 amps for 10 minutes and noticed the anode turned brown. Does anyone know why this is?
Mark Allabush
Technical - Basingstoke, England


If you have a question in mind which seems off topic, please Search the Site